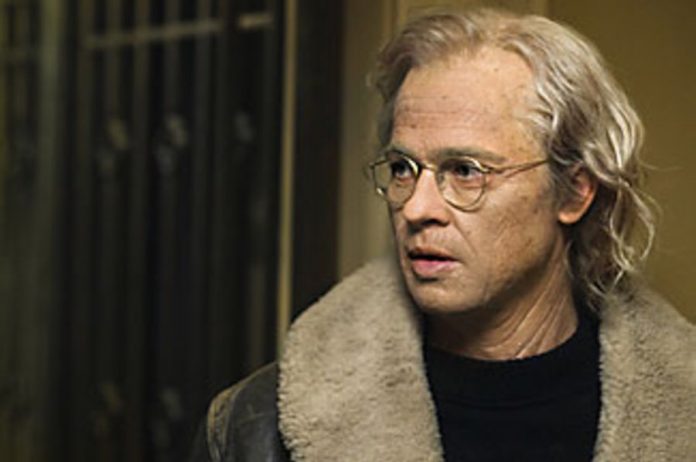 DATA FILM
Judul Film: The Curious Case of Benjamin Button
Genre: Drama
Sutradara: David Fincher
Produser: Kathleen Kennedy – Frank Marshall
Studio Produksi: Kennedy/Marshall
Distributor: Paramount Pictures (Amerika) – Warner Bros. (Internasional)
Negara: Amerika
Bahasa: Inggris
Durasi: 165 menit
Tahun Rilis: 6 Februari 2009
DATA LAINNYA
PEMERAN UTAMA
Brad Pitt sebagai Benjamin Button
Cate Blanchett sebagai Deasy
SINOPSIS FILM THE CURIOUS CASE OF BENJAMIN BUTTON
The Curious Case of Benjamin Button bercerit tentang seorang pria yang memiliki kelainan sejak lahir dalam tumbuh menuju dewasa. Benjamin Button lahir dengan tubuh yang menyerupai pria yang sudah sangat tua. Secara fisik, Benjamin sama dengan orang seusianya, namun semakin ia bertambah usia, fisiknya justru terlihat semakin muda. Ayahnya tidak menyukai kelainan yang ada di diri Benjamin, hingga dia membuang nya ke panti jompo.
Selama di panti, Benjamin berteman dengan cucu sahabatnya, Daisy, seorang gadis kecil yang membuatnya jatuh cinta pada pandangan pertama. Hubungan keduanya dimulai dari teman bermain, hingga mereka beranjak dewasa. Inilah yang menjadi masalah dalam hubungan mereka. Seiring dengan berjalannya waktu, Daisy tumbuh semakin dewasa, sementara Benjamin tumbuh semakin muda. Meskipun secara emosi mereka memiliki pertumbuhan yang sama, namun secara fisik mereka justru berkebalikan. Hal yang tidak biasa ini yang menjadi halangan dalam hubungan cinta mereka. Akankah cinta mereka tetap bertahan?
TRAILER
REVIEW FILM THE CURIOUS CASE OF BENJAMIN BUTTON
Film terbaru dari sutradara favorit Kita, David Fincher. Sutradara yang selalu menghasilkan film yang memiliki sinematografi menakjubkan, jalan cerita yang sulit ditebak, dan penokohan yang kuat. Lihat saja film-film sebelumnya, seperti Fight Club, Se7en, dan Panic Room. Semuanya berhasil membuat Kita, dan mungkin Anda juga, terpana. Salah satu ciri khasnya adalah dia selalu memasukkan unsur efek visual ke dalam sebuah cerita drama, hingga membuatnya menjadi sebuah film drama yang berkelas.
Semua keunggulan di atas, kembali dia tuangkan dalam The Curious Case of Benjamin Button. Sama seperti pendahulunya, film ini memiliki sinematografi dan seni artistik tinggi. Efek visual ditampilkan dengan proporsional pada scene yang tepat, hingga membuat film ini menjadi film drama yang juga mampu memanjakan mata.
Bukan hanya itu, jalan ceritanya dan penokohannya pun tak kalah dengan tampilan visualnya. Anda akan melihat lagi akting fantastis Brad Pitt,  di bawah arahan David Fincher, setelah sebelumnya dia tampil dengan sangat baik sekali di film Fight Club dan Se7en. Bagaimana dengan jalan cerita? Tidak perlu diragukan lagi. Anda akan dibuat terpukau, terhanyut, sekaligus penasaran oleh film ini. Anda akan merasa bahwa Anda masuk ke dalam film dan mengalaminya sendiri. Hingga Anda tidak sadar telah 'terhipnotis' selama lebih dari 2 jam.
Anda merasa Kita berlebihan dalam memuji film ini? Silahkan tonton sendiri filmnya. Jangan salahkan Kita bila Anda menjadi sependapat dengan Kita 🙂
(FrameRate/Kitareview.com)