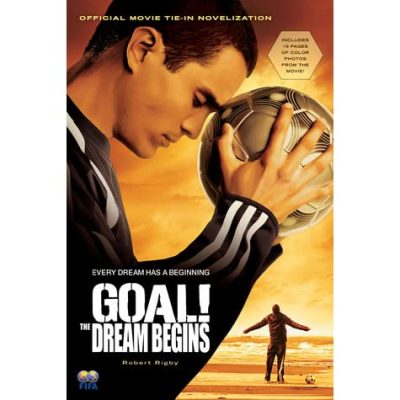 DATA FILM
PEMERAN UTAMA
Kuno Becker sebagai Santiago Munez
Stephen Dilane sebagai Glen Foy
Alessandro Nivola sebagai Gavin Harris
SINOPSIS FILM GOAL! THE DREAM BEGINS
Olahraga yang paling popular di dunia adalah sepakbola. Meski di Amerika kalah bersaing dengan basket dan American Football. Tapi untuk skala global, sepakbola tetap yang paling digandrungi. Banyak anak yang bermimpi suatu ketika bisa menjadi pemain sepakbola professional.
Salah satunya adalah Santiago Munez (Kuno Becker). Ia adalah imigran Mexico yang melewati perbatasan untuk ke Amerika pada usia 10 tahun. Beranjak dewasa nasib Santiago tidak kunjung membaik. Ia diperkirakan tidak akan jauh bernasib jadi pekerja miskin. Bahkan ayahnya pun hanya bisa berkata, "There are two types of people in this world. People in big houses, and people like us who cut their lawns and wash their cars."
Santiago tidak putus asa, ia terus berlatih dan bertanding secara pribadi. Bakatnya kemudian terlihat oleh seorang tokoh sepakbola terkenal Brit Glen Foy (Stephen Dilane). Santiago pun dibawa ke klub sepakbola terkenal New Castle United di Inggris. Di tempat inilah, Santiago harus membuktikan bahwa ia sungguh-sungguh berbakat dan tangguh dalam mengolah bola.
Klub New Castle merupakan salah satu klub bergengsi di dunia dengan penggemar yang sangat banyak. Tidak mudah begitu saja beradaptasi. Tidak hanya sekedar bermain bola, namun harus menghadapi persoalan lain, seperti cedera, masa-masa sulit terlebih saat kehilangan ayahnya, serta godaan-godaan para bintang sepakbola pada umumnya.
TRAILER FILM GOAL! THE DREAM BEGINS
REVIEW FILM GOAL! THE DREAM BEGINS
Di film ini banyak bertaburan bintang-bintang sepakbola dunia yang menjadi bintang tamu, antara lain Alan Shearer, Patrick Kluivert, Kieron Dyer, David Beckham, Raul Gonzalez, dan Zinedine Zidane. Mungkin itulah yang dijadikan salah satu daya tarik untuk film ini.
Pemain sepakbola professional yang biasanya hanya anda lihat kalau sedang bertanding, tapi sekarang bisa dilihat pula mereka menjajal kemampuan terpendam mereka, yaitu akting. Lain halnya dengan film Bend it Like Beckham, film ini jauh lebih realistis, terutama mengenai impian remaja latin miskin yang tiba-tiba bisa kaya dan terkenal karena bermain bola.
Film ini lumayan bisa memancing emosi orang yang menontonnya, ada haru, sedih, bahagia, dan bangga. Ceritanya juga disajikan dengan sangat sempurna oleh sang sutradara. Bagi penggemar fanatik sepakbola sebaiknya tidak melewatkan untuk menonton film ini untuk melihat Goal!!!.
(Cheezy/Kitareview.com)