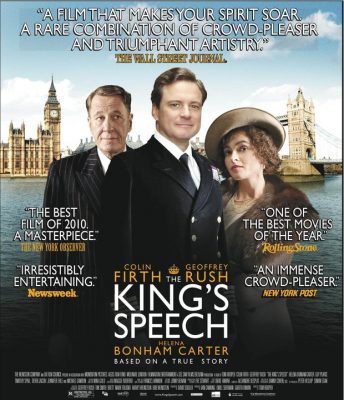 DATA FILM
Judul Film: The King's Speech
Genre: Biografi – Drama – Sejarah
Sutradara: Tom Hooper
Produser: Iain Canning – Emile Sherman – Gareth Unwin – Geoffrey Rush
Penulis Skenario: David Seidler
Studio Produksi: Bedlam Productions
Distributor: Paramount Pictures
Negara: Inggris – Australia – Ameria
Bahasa: Inggris
Durasi: 118 menit
Tanggal Rilis: 17 Februari 2011 (Indonesia)
PENGHARGAAN YANG DIPEROLEH
Academy Awards ke-83 (2011)

Best Achievement in Directing: Tom Hooper (menang)
Best Motion Picture of the Year: Iain Canning, Emile Sherman, Gareth Unwin (menang)
Best Performance by an Actor in a Leading Role: Colin Firth (menang)
Best Writing, Screenplay Written Directly for the Screen: David Seidler (menang)
Best Achievement in Art Direction: Eve Stewart, Judy Farr (nominasi)
Best Achievement in Cinematography: Danny Cohen (nominasi)
Best Achievement in Costume Design: Jenny Beavan (nominasi)
Best Achievement in Editing: Tariq Anwar (nominasi)
Best Achievement in Music Written for Motion Pictures, Original Score: Alexandre Desplat (nominasi)
Best Achievement in Sound Mixing: Paul Hamblin, Martin Jensen, John Midgley (nominasi)
Best Performance by an Actor in a Supporting Role: Geoffrey Rush (nominasi)
Best Performance by an Actress in a Supporting Role: Helena Bonham Carter (nominasi)

Golden Globe Awards ke-68 (2011)

Best Performance by an Actor in a Motion Picture – Drama: Colin Firth (menang)
Best Director – Motion Picture: Tom Hooper (nominasi)
Best Motion Picture – Drama (nominasi)
Best Original Score – Motion Picture: Alexandre Desplat (nominasi)
Best Performance by an Actor in a Supporting Role in a Motion Picture: Geoffrey Rush (nominasi)
Best Performance by an Actress in a Supporting Role in a Motion Picture: Helena Bonham Carter (nominasi)
Best Screenplay – Motion Picture: David Seidler (nominasi)
PEMERAN UTAMA
Colin Firth sebagai Prince Albert, Duke of York / King George VI
Helena Bonham Carter sebagai Elizabeth, Duchess of York / Queen Elizabeth
Geoffrey Rush sebagai Lionel Logue
Guy Pearce sebagai Edward, Prince of Wales / King Edward VIII
Michael Gambon sebagai King George V
Timothy Spall sebagai Winston Churchill
TRAILER
SINOPSIS FILM THE KING'S SPEECH
Dari hanya sekedar menyampaikan ucapan selamat sampai mengobarkan semangat para warganya, pidato acap kali menjadi medium yang efektif bagi seorang pemimpin untuk menunjukan kewibawaan dan kekuatannya. Pidato yang baik tentu harus diikuti dengan pengucapan yang baik pula. Nah, sekarang coba anda banyangkan jika seorang Aziz 'Gagap' harus disuruh berpidato, ha..ha…mengelikan pastinya.
Nah, dalam The King's Speech yang menderita kesulitan berbicara bukanlah seorang pelawak, Ia adalah Pangeran Albert, Duke of York, putra dari Raja George V, yang tentu bukanlah sebuah figur yang pantas dijadikan bahan tertawaan. Bersama Istrinya, Elizabeth, Albert sudah beberapa kali berupaya mengobati kekurangannya ini, berbagai dokter terkenal dan metode pengobatan pun sudah mereka jalani namun tidak pernah berhasil.
Sampai suatu hari, Elizabeth mendapatkan rekomendasi, seorang ahli terapis asal Australia, Lionel Logue, yang katanya memiliki metode pengobatan non-ortodoks dan kontroversial. Pertanyaannya sekarang, apakah pengobatan tidak lazim yang dilakukan oleh speech therapist nyentrik itu bisa menyembuhkan Albert dari gangguan berbicaranya?
REVIEW FILM THE KING'S SPEECH
Ah, siapa sangka sebuah kisah tentang usaha memperbaiki cara berbicara seseorang bisa menjadi sebuah film yang sangat menarik, menyentuh dan emosional? Ya, terlepas dari premis yang unik tersebut, The King's Speech sendiri adalah sebuah custome drama Inggris yang sukses mematahkan anggapan kebanyakan penonton awam yang sering menganggap bahwa film-film bertema sejarah Inggris dan segala tetek bengeknya adalah sebuah film yang membosankan dan jauh dari kata menghibur.
Tidak perlu waktu lama untuk bagi Kita untuk dapat langsung jatuh cinta pada film yang di komandani oleh Tom Hooper ini. Dari adegan pembukaannya saja, Kita langsung mengetahui bahwa Hooper akan membawa sesuatu yang berbeda dalam filmnya kali ini. Sebuah opening scene yang menarik, dan mungkin salah satu yang terbaik di 2010 lalu Yang kemudian juga berhasil menjadi pondasi kuat bagi film ini untuk meluncur ke depan dengan sangat mulus, melalui rangkaian adegan per adegan yang tidak henti-hentinya membuat Kita terpesona dan kagum.
Adegan dramatis dan terkadang mendebarkan serta berbalut dialog-dialog cerdas dan juga lucu, yang tidak jarang mengundang rasa geli penontonnya. Pujian juga patut diberikan kepada penulis naskah, David Seidller, dimana duetnya dengan Hooper dapat mengubah sebuah premis sederhana menjadi sebuah tontonan drama sejarah yang sangat enjoyable sepanjang 118 menit.
Selain The Fighter, The King's Speech juga memiliki deretan pemain-pemain luar biasa didalamnya . Sebut saja Colin Firth, lewat aktingnya hebatnya sebagai Pangeran Albert 'gagap' yang juga merupakan ayah dari Ratu Elizabeth, Ratu Inggris saat ini. Aktingnya sudah tidak perlu diragukan lagi, karena aktor watak Inggris satu telah berhasil 'mengawinkan' piala emas Golden Globe yang sudah diperolehnya dengan piala emas Oscar sebagai pemeran utama terbaik.
Nama lain adalah Helena Bonham Carter, yang juga sukses menjalankan tugasnya dengan sangat baik sebagai Elizabeth, istri 'Bertie' yang setia menemani suaminya dalam suka dan duka. Yup, siapa bilang Mrs.Burton tidak bisa memainkan peran-peran 'normal', kali ini pemeran Belatrix Lestrange dalam franchise Harry Potter ini benar-benar tampil 'beda'.
Last but not last, adalah Geoffrey Rush, adalah sangat menghina jika Anda masih menanyakan kualitas akting aktor senior Inggris satu ini. Pengalamannya yang sudah malang melintang di dunia perfilman jelas memudahkannya membawakan peran sesulit apapun, termasuk menjadi terapis bicara, Lionel Logue yang nyentrik namun meyenangkan.
Ya, trio Firht-Carter-Rush adalah "Three Musketeers"-nya The King's Speech, kolaborasi ketiganyalah yang membuat film ini menjadi jauh lebih menarik untuk dinikmati, jangan lupakan juga kehadiran Guy Pearce sebagai Raja Edward VII -yang juga kakak dari Albert, dan Michael 'Dumbledore' Gambon sebagai Raja George V, dimana kehadiran keduanya semakin melengkapi sebuah ensemble cast sempurna.
Dibuka dengan meyakinkan, berkembang dengan dinamis dan diakhiri dengan sangat emosional, itulah The King's Speech. Sebuah historical drama luar biasa yang diisi oleh orang-orang luar biasa pula. Sebuah film inspirasional dari seorang Pemimpin hebat dalam usaha mencari kepercayaan dirinya. Long Live The King!
(Hafilova/Kitareview.com)