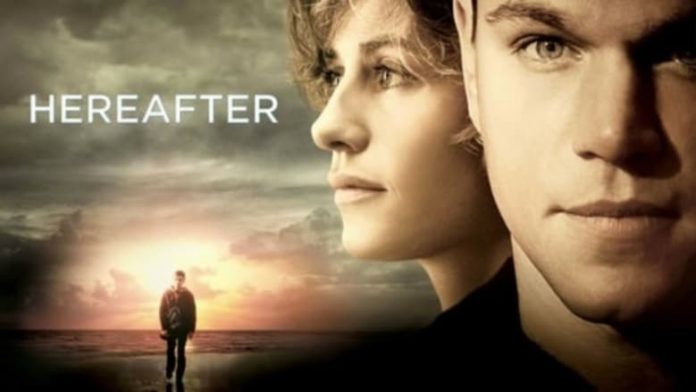 DATA FILM
Judul Film: Hereafter
Genre: Drama – Fantasi
Sutradara: Clint Eastwood
Produser: Steven Spielberg (Executive) – Clint Eastwood – Robert Lorenz – Kathleen Kennedy
Penulis Skenario: Peter Morgan
Studio Produksi: Kennedy/Marshall – Malpaso Producrtons – Amblin Entertainment
Distributor: Warner Bros Pictures
Negara: Amerika
Bahasa: Inggris – Perancis
Durasi: 129 menit
Tanggal Rilis: 22 October 2010
PEMERAN UTAMA
Matt Damon sebagai George Lonegan
Cécile de France sebagai Marie Lelay
Frankie dan George McLaren sebagai Marcus and Jason
Bryce Dallas Howard sebagai Melanie
SINOPSIS FILM HEREAFTER
George, seorang pekerja dengan kemampuan untuk berkomunikasi dengan orang-orang yang mengalami hidup setelah kematian. Marie, seorang jurnalis Perancis yang baru saja mengalami pengalaman yang hampir merenggut hidupnya.
Marcus dan Jason, sepasang anak kembar dengan keaddan broken home yang harus mengalami suatu kejadian tragis yang yang berhubungan dengan hilangnya sebuah nyawa. Tiga kisah inspiratif yang disatukan dengan sebuah benang merah. Kematian.
TRAILER FILM HEREAFTER
REVIEW FILM HEREAFTER
Besutan Clint Eastwood yang diproduseri oleh Steven Spielberg, ditambah lagi dengan penulis Peter Morgan yang hasil karyanya bisa dilihat di Frost/Nixon, Last King of Scotland, The Queen dan masih banyak lagi. Terdengar sangat menarik dan cukup menjanjikan, khususnya di bagian dialog dan storytelling.
Banyak hal yang dapat dinikmati dari film ini. Sebut saja dari aktingnya, Matt Damon tampil piawai sebagai seorang cenayang yang memiliki kekuatan untuk menolong orang lain tapi akhirnya malah menggunakannya untuk menolong diri sendiri. Cécile de France dan Bryce Dallas Howard yang mencuri perhatian lewat perannya.
Perempuan manis yang mengalami pahitnya fakta kehidupan yang tak siap mereka tanggung bebannya, Duo kembar Frankie dan George McLaren pun cukup kompak dan meyakinkan dalam memainkan perannya sebagai sepasang anak yang tegar menghadapi kesulitan. Terlihat sedih dan rapuh, namun di sisi lain mampu mandiri dan mumpuni. Anda pasti akan terbawa masuk ke dalam karakter mereka dan merasakan setidaknya sedikit dari apa yang mereka rasakan.
Plotnya memiliki fase yang sangat lambat. Sangat sangat lambat. Sebagian dari Anda mungkin sudah akan tak sabar menebak adegan adegan selanjutnya. Dengan tekun sang sutradara memintal bagian per bagian adegan hingga Anda tak akan sadar pintalan tersebut telah menjadi suatu kesatuan yang utuh.
Sayangnya proses pemintalan adegan-adegan tersebut justru lebih menarik daripada hasil jadi keseluruhan film ini. Ending yang ditawarkan tidak terasa klimaksnya walaupun masih bisa dinikmati sedikit. Dramatis, namun mungkin akan sedikit membuyarkan ekspektasi yang sudah Anda bentuk sepanjang perjalanan film. Sangat lamban tapi sangat cepat begitu Anda menyadari film ini sudah berakhir.
Namun tak dapat disangkal, Hereafter dapat memberi satu gambaran utuh yang cukup getir tentang masalah kematian dan kehidupan setelahnya. Tontonlah apabila Anda memiliki waktu luang. Untuk hanya sekedar menonton ataupun merenungkan pesan-pesan dalam film ini 🙂
(@win66ih/Kitareview.com)