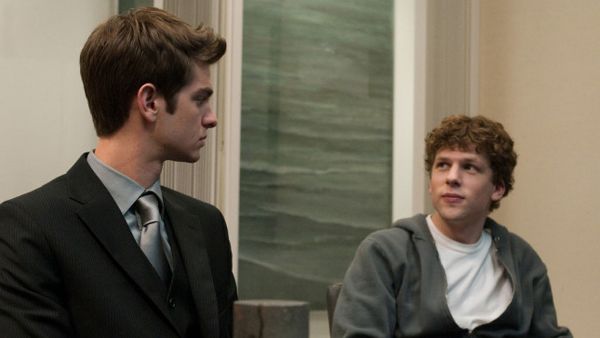 DATA FILM
Judul Film: The Social Network
Genre: Drama – Biografi – Sejarah
Sutradara: David Fincher
Produser: David Fincher – Scott Rudin – Dana Brunetti
Penulis Skenario: Aaron Sorkin (Film) – Ben Mezrich (Novel)
Studio Produksi: Columbia Pictures – Relativity Media – Michael De Luca Productions
Distributor: Columbia Pictures – Sony Pictures
Negara: Amerika
Bahasa: Inggris
Durasi: 121 menit
Tanggal Rilis: 3 November 2010 (Indonesia)
PENGHARGAAN YANG DIPEROLEH
Academy Awards ke-83 (2011)

Best Achievement in Cinematography: Jeff Cronenweth (nominasi)
Best Achievement in Directing: David Fincher (nominasi)
Best Achievement in Editing: Kirk Baxter, Angus Wall (menang)
Best Achievement in Music Written for Motion Pictures, Original Score: Trent Reznor, Atticus Ross (menang)
Best Achievement in Sound Mixing: Ren Klyce (nominasi)
David Parker: Michael Semanick, Mark Weingarten (nominasi)
Best Motion Picture of the Year: Scott Rudin, Dana Brunetti, Michael De Luca, Ceán Chaffin (nominasi)
Best Performance by an Actor in a Leading Role: Jesse Eisenberg (nominasi)
Best Writing, Screenplay Based on Material Previously Produced or Published: Aaron Sorkin (menang)

Golden Globe Awards ke-68 (2011)

Best Motion Picture – Drama (menang)
Best Director – Motion Picture: David Fincher (menang)
Best Original Score – Motion Picture: Trent Reznor, Atticus Ross (menang)
Best Screenplay – Motion Picture: Aaron Sorkin (menang)
Best Performance by an Actor in a Motion Picture – Drama: Jesse Eisenberg(nominasi)
Best Performance by an Actor in a Supporting Role in a Motion Picture: Andrew Garfiel(nominasi)
PEMERAN UTAMA
Jesse Eisenberg sebagai Mark Zuckerberg
Andrew Garfield sebagai Eduardo Saverin
Justin Timberlake sebagai Sean Parker
Brenda Song sebagai Christy
Rooney Mara sebagai Erica Albright
Armie Hammer sebagai Cameron Winklevoss / Tyler Winklevoss
Max Minghella sebagai Divya Narendra
SINOPSIS FILM THE SOCIAL NETWORK
Mungkin tidak pernah ada Facebook jika pada tahun 2003 lalu Mark Zuckerberg, geek yang juga mahasiswa Harvard jurusan psikologi ini tidak dicampakan oleh kekasihnya, Erica Albright. Marah dan kecewa Mark kemudian ia melampiaskan kekesalannya itu melalui hobinya di dunia maya, khususnya pada kegemarannya menulis blog, yang kemudian berujung terbentuknya FaceMash, yang dibuatnya bersama sahabatnya, Eduardo Saverin.Ya, diluar dugaan dalam waktu singkat FaceMash 'meledak' dan digandrungi oleh para mahasiswa, khususnya para mahasiswa laki-laki di universitas paling bergengsi di dunia itu, dan juga menjadi 'benih' terbentuknya sebuah 'pohon raksasa' bernama Facebook.
TRAILER
REVIEW FILM THE SOCIAL NETWORK
Facebook, siapa sih yang tidak mengenal jejaring sosial fenomenal satu ini? Facebook telah merubah cara manusia berkomunikasi dengan lebih mudah, lebih murah dan tentunya jauh lebih menarik dan menyengkan. Facebook juga memungkinkan para penggunanya bertemu dengan kawan-kawan lama mereka, yang susah dilakukan lewat pesawat telepon. Singkat kata, sejak kemunculan pada Februari 2004 lalu, Facebook telah merubah dunia, dan melalui The Social Network, Anda akan mengetahui bagaimana situs jejaring sosial beranggotakan 500 juta orang diseluruh dunia ini bermula, melalui kisah seorang nerd 19 tahun, bernama Mark Zuckerberg.
The Social Network tidak melulu menceritakan kisah-kisah manis dibalik sejarah berdirinya situs yang awalnya bernama Thefacebook ini, namun juga kisah-kisah kelam dibaliknya, kisah tentang ambisi, keserakahan, pengkhiantan, persahabatan, etika yang rusak menjadi 'bumbu pedas' film sepanjang 2 jam ini. Acungan jempol jelas pantas diberikan kepada dua orang yang berada dibalik pembuatan film ini. Ada Aaron Sorkin sebagai penulis naskah, yang sebelumnya sukses menggarap naskah bagi serial televisi West Wing ini, terbilang sangat berhasil mengubah kisah semi-biopik, yang diadaptasi dari novel bestseller The Accidental Billionaires buah karya Ben Mezrich.
Cerita yang coba dihadirkan oleh Sorkin ini terbilang cukup kontroversial, karena tidak langsung bersumber dari seorang Mark Zuckerberg sendiri atau para pendiri Facebook lain, yang mentah-mentah menolak bahkan menentang dibuatnya film ini. Jadi mau tidak mau Mezrich mencari sumber lain seperti dari data-data dan berbagai wawancara dengan saksi-saksi. Jadi walaupun The Social Network diangkat dari kisah nyata, namun tentang benar atau tidaknya tergantung dari bagaimana interpretasi setiap penontonnya.
The Social Network memang bukanlah tipikal film yang biasa dihasilkan oleh seorang David Fincher. Semenjak The Curious Case of Benjamin Button 2008 lalu, sutradara berjulukan "prince of darkness" ini tampaknya mulai sedikit 'lembut' dalam menghadirkan karya-karyanya. Walaupun The Social Network sendiri masih menghadirkan aura kelam, gelap dan dingin yang menjadi ciri khasnya, namun tetap saja feel film ini terasa lebih ceria jika dibandingkan dengan Seven, Fight Club maupun The Game.
Seperti biasa, Fincher selalu bisa menghadrikan momen-momen menarik dengan tempo cukup cepat, secepat dialog-dialog cerdas, bahkan terkadang sulit dimengerti bagi beberapa penonton, yang keluar dari mulut para karakternya. Plus alur maju mundur yang semakin membuat The Social Network menyenangkan untuk ditonton.
Kehadiran para cast yang mempesona menjadi daya tarik lain The Social Network. Jesse Eisenberg terbilang pas memainkan karakter 'abu-abu' Mark Zuckerberg, seorang yang jelas jenius dan penuh inspirasi, namun disisi lain juga adalah seorang pemuda yang kelewat percaya diri alias narsis, idealis, egois dan kurang menghargai arti persahabatan. Sebuah karakter yang mungkin tidak pernah dibanyangkan oleh para penonton sebelumnya.
Andrew Garfield mungkin adalah karakter yang paling intens penampilannya selain Eisenberg. Aktor yang namanya mulai dikenal sebagi pengganti Tobey Maguire dalam reboot Spiderman ini, dengan sukses menghadirkan karakter emosional seorang Eduardo Saverin, sahabat sekaligus salah satu pendiri Facebook yang banyak mendapatkan simpati penontonnya. Dan terakhir ada nama Justin Timberlake yang bermain cukup baik sebagai Sean Parker, pendiri Napster yang juga seorang opurtunis manipulatif.
The Social Network memang bukan yang terbaik dari seorang David Fincher, namun tetap saja, ia dan Aaron Sorkin sudah melakukan 'pekerjaan rumah' mereka dengan baik. The Social Network bukan hanya sekedar sebuah kisah tentang bagaimana raksasa Facebook itu lahir dari seorang jenius bernama Mark Zuckerberg, namun juga bagaimana konflik-konfik menarik dan dilema moral yang menyertainya. Menjadikan The Social Network sebuah drama yang wajib ditonton bagi siapa saja yang ingin mengetahui sejarah berdirinya Facebook, lebih dekat.
(Hafilova/Kitareview.com)