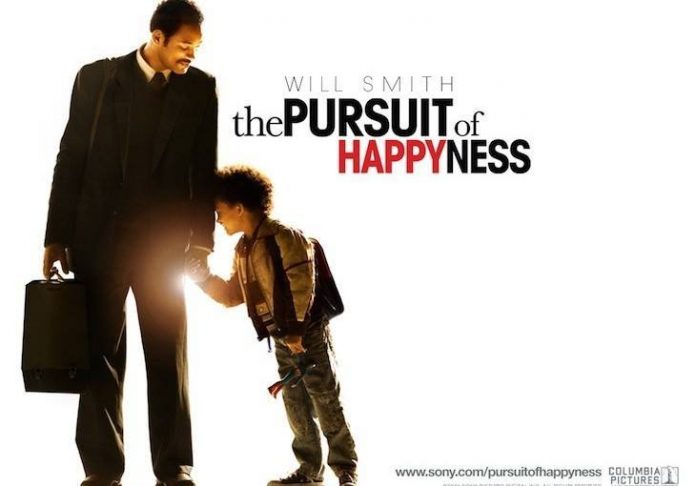 DATA FILM
Judul Film: The Pursuit of Happyness
Genre: Drama
Sutradara: Gabriele Muccino
Produser: Will Smith
Penulis Skenario: Steve Conrad
Studio Produksi: Relativity Media – Overbrook Entertainment – Escape Artists
Distributor:  Columbia Pictures
Negara: Amerika
Bahasa: Inggris
Durasi: 109 menit
Tahun Rilis: 15 Desember 2006 (Amerika)
PEMERAN UTAMA
Will Smith sebagai Chris Gardner
Thandie Newton sebagai Linda
Jaden Smith sebagai Christopher
SINOPSIS FILM THE PERSUIT OF HAPPYNESS
Film ini diangkat dari kisah nyata, yaitu perjalanan Chris Gardner dalam mengejar kesuksesan. Cerita film ini dimulai pada tahun 1981 di San Francisco, California. Linda dan Chris Gardner hidup di sebuah apartemen kecil bersama anak mereka yang berusia 5 tahun, Christopher.
Keluarga kecil ini mulai terpecah ketika mereka menyadari bahwa mereka tak mampu membayar sewa rumah dan tagihan-tagihan yang semakin menumpuk. Puncaknya, Linda pergi meninggalkan Chris dan pergi ke New York City. Awalnya ia hendak membawa serta Christopher, namun urung atas permintaan Chris.
Kemudian Chris memutuskan untuk berkarir sebagai pialang saham, karena terinspirasi oleh orang yang ditemuinya di jalan. Chris menerima tawaran magang tanpa dibayar, di sebuah perusahaan pialang Dean Witter Reynolds. Dalam masa tersebut, Chris mulai kehabisan uang.
Akhirnya ia diusir dari rumah sewanya dan menjadi tuna wisma. Kemiskinan dan ke-tunawisma-an ini semakin mendorong tekad Chris untuk menjalankan tugas dengan giat dan mendapatkan pekerjaan di Dean Witter Reynolds. Apakah Chris sanggup mendapat pekerjaan itu dan memperbaiki kehidupannya?
TRAILER FILM THE PERSUIT OF HAPPYNESS
REVIEW FILM THE PERSUIT OF HAPPYNESS
Kesan pertama ketika melihat judul dari film ini adalah "Kok Happyness? Bukankah  istilah "kebahagiaan" dalam bahasa Inggris adalah Happiness?". Terlepas dari cara penulisan judul, karena Kita yakin Hollywood punya alasannya sendiri, ternyata rasa penasaran itulah yang menggerakan Kita, untuk menonton film yang dibintangi oleh Will Smith ini.
Ternyata film ini sangat menyentuh hati, karena akting para pemeran di film ini begitu natural. Akting dari putra Will Smith sendiri yaitu Jaden Smith, yang walaupun masih sangat kecil, namun tidak dibuat-buat. Sehingga Anda akan bisa merasakan perasaan yang sama, yang dialami olehnya.
Secara bertahap Anda akan diajak untuk menyimak kehidupan nyata dari Chris Gardner yang penuh dengan perjuangan. Secara pribadi, Kita menilai tidak ada "cela" dalam film ini. Meskipun ber-genre Drama, namun bukan termasuk drama yang membosankan. Hollywood sepertinya tahu bagaimana "rumus" membuat film drama menjadi tidak membosankan. Flow cerita yang baik, akting menawan, disertai dengan background musik yang ear catching, akan membuat Anda betah duduk 109 menit untuk menonton film ini.
Jangan sungkan-sungkan untuk menontonnya bersama keluarga di rumah, karena tidak ada unsur "dewasa" di sini. Justru banyak pelajaran hidup yang sangat berharga, yang bisa bermanfaat bagi siapapun yang menontonnya. Selamat menonton!
(Yanuar/Kitareview.com)