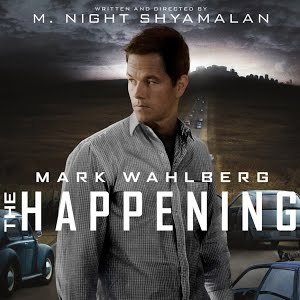 DATA FILM
Judul Film: The Happening
Genre: Drama – Horor – Thriller
Sutradara: M. Night Shyamalan
Produser: M. Night Shyamalan, Barry Mendel, Sam Mercer
Penulis Skenario: M. Night Shyamalan
Studio Produksi: Spyglass Entertainment
Distributor: 20th Century Fox
Negara: Amerika
Bahasa: Inggris – Perancis
Durasi: 91 menit
Tahun Rilis: 11 Juni 2008 (Indonesia)
PEMERAN UTAMA
Mark Wahlberg sebagai Elliot Moore
Zooey Deshanel sebagai Alma Moore
John Leguizamo sebagai Julian
Ashlyn Sanchez sebagai Jess
Betty Buckley sebagai Mrs. Jones
SINOPSIS FILM THRILLER THE HAPPENING
Kejadian aneh menimpa sebuah central park di Amerika, dimana orang-orang di tempat tersebut berubah perilakunya dan akhirnya melakukan bunuh diri. Hal yang sama terjadi di tempat-tempat sekitarnya, yang mengakibatkan kematian mengerikan bagi yang menimpanya.
Sadar akan ancaman tersebut, Elliot Moore, seorang guru di salah satu SMU di daerahnya, segera berniat untuk evakuasi bersama istrinya, Alma dan kerabat sesama guru,  Julian. Di perjalanan evakuasi, mereka pun menemukan hal yang sama, yang disinyalir sebagai aksi terorisme. Namun ternyata yang ditemukan bukanlah sebuah aksi terorisme yang menyerang Amerika Serikat, namun hal lain yang lebih mengejutkan.
TRAILER FILM THRILLER THE HAPPENING
REVIEW FILM THRILLER THE HAPPENING
Seperti biasa, M. Night Shyamalan kembali menghadirkan karyanya sebagai sebuah horor dicampur drama dengan premis. Hasilnya, hadir ancaman baru berupa bentuk lain, bukan hantu atau alien yang telah dibuat sebelumnya, maupun ending dengan twist yang mengejutkan.
Dibuat dengan cukup apik, baik dari jalinan cerita maupun pengembangan karakter. Melalui film ini, anda akan melihat ancaman baru bagi kelangsungan hidup umat manusia.Karakter-karakternya dibuat untuk menyelami setiap teror yang terjadi, tanpa mengurangi jalinan tiap tokoh. Aksi teror yang direkam dengan sunyi dan mencekam khas Shyamalan kembali hadir sebagai salah satu trademark-nya.
Horor yang dibangun dari awal, dibuat dengan intensitas yang meninggi di tiap menit film. Serta tidak lupa, misteri yang muncul membuat penonton mau tidak mau harus duduk dari awal hingga akhir film, untuk menguak misteri yang terjadi.
Permainan dari Mark Wahlberg serta pemeran lainnya juga cukup mendukung teror yang terjadi. Dengan permainan kamera yang durasi shoot-nya cukup panjang, Wahlberg cukup tanpa cela dengan mimik mukanya yang pas. Sama halnya dengan Zooey Deschanel maupun John Leguizamo, yang juga tampak menikmati perannya dan cukup mendukung aroma suram yang dibentuk Shyamalan.
Namun bagi yang menginginkan lebih dari seorang Shyamalan tampaknya harus agak sedikit mengurangi tensinya, mengingat Shyamalan di sini tampaknya kurang rapih dalam menjalin misteri maupun twist ending-nya.
Bagi yang tidak pernah menonton karyanya sebelumnya, dipastikan akan cukup terhibur. Namun bagi penggemar setianya, karyanya tidak mampu melebihi apa yang telah dibuat di The Sixth Sense, bahkan The Village sekalipun. Tapi masih lebih baik dari Lady In The Water.
Terlepas dari semua itu, film ini tetap sangat layak untuk ditonton, karena anda akan menemukan hal yang berbeda 🙂
(Jack/Kitareview.com)