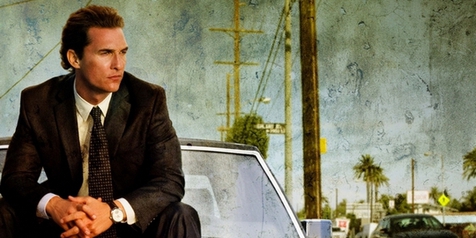 DATA FILM
Judul Film: The Lincoln Lawyer
Genre: Crime – Thriller
Sutradara: Brad Furman
Produser: Sidney Kimmel, Tom Rosenberg, Gary LucchesiRichard Wright, Scott Steindorff
Penulis Skenario: John Romano
Studio Produksi: Lions gate
Distributor: Lions gate
Negara: Amerika
Bahasa: Inggris
Durasi: 118 menit
Tahun Rilis: 8 April 2011 (Indonesia)
PEMERAN UTAMA
Matthew McConaughey sebagai Mick Haller
Marisa Tomey sebagai Maggie Mcpherson
Ryan phillippe sebagai Louis Roulet
William H macy sebagai Frank Levin
SINOPSIS FILM THE LINCOLN LAWYER
Mickey Haller adalah seorang pengacara di LA yang lumayan sukses. Dia biasa bekerja secara mobile dari mobil Lincolnnya, bersama seorang supir yang juga banyak melakukan dirty jobs untuknya. Sebelum bertemu Louis Roulet, Mickey biasa menangani kasus dari pelaku kriminalitas kelas menengah kebawah.
Louis adalah klien 'besar' pertamanya. Louis adalah seorang playboy dari Beverly hills yang bekerja sebagai agen real estate yang juga memiliki ibu sebagai legenda real estate.
Louis dituduh melakukan pemukulan secara brutal kepada seorang pelacur yang disewanya. Louis ngotot bilang jika dirinya tidak bersalah dan dijebak. Untuk pertama kalinya, Mickey merasa klien nya tidak bersalah. Tapi film ini tidak akan menarik kalau plotnya sesederhana itu, bukan?
Bersama dengan mantan istrinya Maggie McPherson yang bekerja sebegai jaksa penuntut, dan seorang detektif swasta yang juga adalah teman baikya, Frank Levin, Mickey berusaha mencari kebenaran atas kasus terbesarnya ini.
TRAILER FILM THE LINCOLN LAWYER
REVIEW FILM THE LINCOLN LAWYER
Sedih sekali ketika nonton film ini hanya menjadi pelengkap kekecewaan akan degradasi kualitas film setahun terakhir ini. Kita yakin novelnya bercerita lebih baik (meskipun Kita sendiri belum sempat membacanya).
Skenario filmnya memberi kesan 'dipadatkan' sehingga menampilkan ceritanya secara dangkal dan general. Tidak ada pembahasan detail kenapa ini begini dan begitu, serta tidak ada emosi yang terlihat cukup serius ditampilkan di sepanjang film ini. Contohnya ketika Mickey bertemu dengan wanita yang ternyata adalah mantan istrinya – Penonton dibiarkan menebak nebak sendiri hubungan mereka melalui beberapa dialog.
Lalu ketika Louis mendatangi rumah mantan istri Mickey. Tidak ada ekspresi cukup lega di wajah Mickey karena dia berhasil melindungi keluarganya, ataupun ekspresi kemarahan yang luar biasa di wajah Louis karena ditipu oleh pengacaranya sendiri.
Film ini sejatinya mengusung nama besar yang punya catatan akting luar biasa. Namun sangat disayangkan karena kurang nya eksplorasi cerita, kehebatan akting para pemeran nya ikutan 'melempem'.
Meskipun ada beberapa kejutan di sepanjang film ini, tetap saja film ini terasa datar dan kurang greget. Bukan film yang layak dibicarakan berminggu-minggu setelah nonton memang, tapi Lincoln Laywer masih bisa dijadikan pilihan untuk mengisi akhir pekan.
(Nakizura/Kitareview.com)