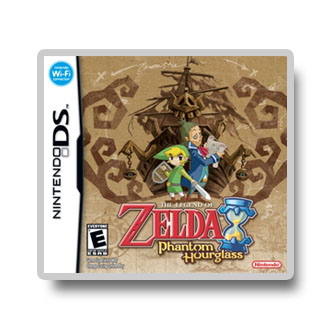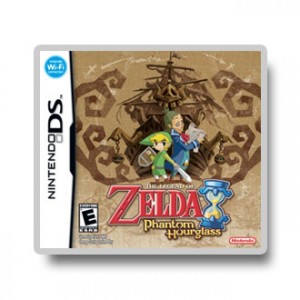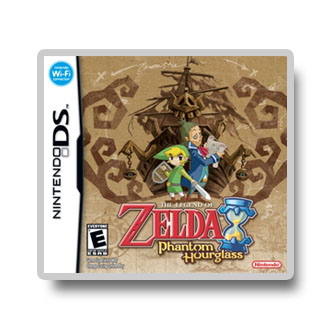 "Phantom Hourglass adalah game terbaik di DS, dan salah satu game Zelda terbaik untuk dimainkan!"

DATA GAME

Judul Game:

The Legend of Zelda: Phantom Hourglass

Genre: Action Adventure – Fantasy

Tahun Rilis: 1 Oktober 2007 (Amerika)

Penerbit: Nintendo

Pengembang: Nintendo

Platform: Nintendo Dual Screen

Rating ESRB: Semua orang

Estimasi Durasi Main: 15 jam+

STORYLINE


The Legend of Zelda: Phantom Hourglass menceritakan dongeng seseorang yang menggunakan pakaian warna hijau (Siapa lagi kalau bukan Link?) yang berteman dengan sekelompok bajak laut. Di dalam kelompok tersebut terdapat seorang perempuan yang secara ajaib berubah menjadi seorang putri, yaitu Princess Zelda. Zelda kemudian ditangkap oleh seorang raja penyihir yang jahat. Melihat hal ini, Link pergi berkelana untuk menyelamatkan Princess Zelda. Singkat cerita, Link berhasil mengalahkan raja penyihir yang jahat itu dan berhasil menyelamatkan Princess Zelda.
Begitulah dongeng yang dibacakan oleh awak kapal kepada teman-temannya. Akibat dari cerita itu, seorang perempuan yang mirip dengan kisah di dongeng, yang bernama Tetra seringkali dipanggil dengan sebutan Zelda. Dan belum lama ini, banyak cerita yang beredar mengenai Kapal berhantu. Tiba-tiba saja, kabut menyelimuti kapal Link, dan sebuah kapal laut muncul. Ternyata kapal itu adalah kapal berhantu yang ada di cerita itu. Tetra yang tidak percaya bahwa kapal itu merupakan kapal berhantu pergi untuk mengeceknya. Hasilnya, Tetra tertangkap dan dibawa pergi oleh kapal berhantu itu. Link dengan segera berusaha melompat dan berpegangan pada kapal itu, tetapi ia terjatuh ke lautan.
Keesokan harinya, Link terbangun dari pingsannya dan melihat seekor peri beterbangan mengitarinya. Mendengar cerita dari Link, peri tersebut ingin membantunya untuk menyelamatkan Tetra. Dan kemudian, dimulailah perjalanan Link untuk menyelamatkan Tetra.


PREVIEW

REVIEW


Gameplay

yang diberikan oleh Nintendo sungguh menyenangkan. Betapa tidak? Anda akan memainkan game ini dari awal sampai akhir

full

menggunakan

stylus

! Grafik yang diberikan pun sangat menarik kalau dibilang. Seakan-akan Anda melihat Link versi kecil, namun tetap dengan kelincahannya, serta ditemani dengan peri-peri yang siap membantu Link ketika dibutuhkan.
Keunggulan game ini dibandingkan game-game NDS yang lain adalah serangkaian

puzzle

yang menanti membutuhkan pemikiran untuk dapat dilalui. Selain itu, adanya fitur kapal, dimana Anda dapat menyeberangi pulau-pulau dengan menggunakan kapal ini, dan juga menghancurkan kapal musuh atau ikan ketika bertemu di tengah perjalanan.
Petualangan Link tidak akan seru jika tidak ditambah dengan tantangan-tantangan. Anda akan dihadapkan dengan Boss Monster yang cukup sulit dikalahkan apabila tidak berhasil mencari tahu kelemahan Boss ini. Masing-masing Boss memiliki kelemahannya tersendiri. Ditambah dengan fitur membeli peralatan untuk memperkuat Link, menambah jumlah HP, berbagai jenis senjata seperti bumerang dan pedang, mampu menguak betapa serunya memainkan game ini.
Dalam melewati

dungeon-dungeon

yang ada, Anda mampu membuat memo di mapnya, sehingga mempermudah serta menambah keasyikkan Anda dalam bermain, seakan-akan Anda sedang mengejar harta karun yang tersembunyi di dalam dungeon. Betapa mengasyikkannya bukan?
Tidak lupa, misi Anda di sini adalah menguak misteri untuk menyelamatkan Tetra, dengan menggunakan juga Phantom Hourglass yang Anda temukan.

So much fun to be found in this game! Especially by using the stylus. Totally!
(DenHurd/Kitareview.com)