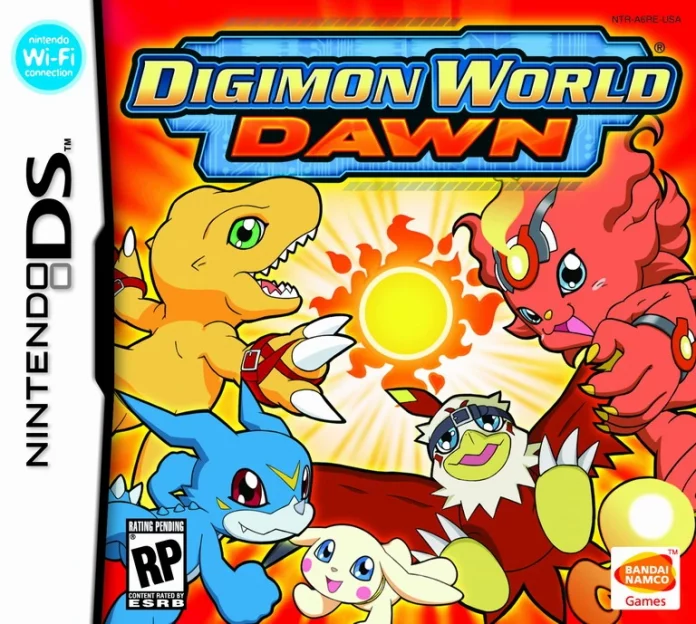 DATA GAME
Judul Game: Digimon World Dawn and Dusk
Genre: Role Playing Game
Mode: Single Player
Platform: Nintendo Dual Screen
Pengembang: Namco Bandai Games
Penerbit: Namco Bandai Games
Estimasi Durasi Main: 50 jam
Rating: ESRB: E
Situs Resmi: –
Tanggal Rilis:

29 March 2007 (Jepang)
18 September 2007 (Amerika)
STORYLINE GAME DIGIMON DAWN AND DUSK
Gempa bumi yang disebabkan oleh virus, mengguncang distrik Sunshine dan Dark Moon. Semua digimon tiba-tiba berubah menjadi digi-egg dan seluruh access point ke dunia Digital pun rusak akibat gempa tersebut.
Seorang anak kecil dengan digimon yang dimilikinya harus berjuang, untuk mengalahkan virus yang telah menyebabkan gempa tersebut sekaligus mengembalikan nama baik distrik Sunshin di mata Dark Moon yang tercemar karena ulah dari virus tersebut.
PREVIEW GAME DIGIMON DAWN AND DUSK
REVIEW GAME DIGIMON DAWN AND DUSK
Seri Digimon yang ber-genre RPG di mesin NDS ini, tentu sangat dinanti oleh para penggemar Digimon. Dibagi menjadi 2 seri yaitu Dawn dan Dusk, yang identik namun berbeda. Identik karena pada gameplay-nya, pemain memainkan karakter yang berbeda untuk masing-masing jenis tersebut.
Pada seri Dawn, pemain mengontrol karakter yang berada pada kubu Sunshine, sedangkan untuk Dusk, pemain memainkan distrik Dark Moon. Gamer bisa memilih gender dari karakter yang dimainkan dan memilih paket-paket Digimon yang tersedia, untuk dijadikan sebagai 3 Digimon andalannya.
Pada seri Dawn, Digimon yang "wajib" dimiliki adalah Coronamon dan memilih 2 Digimon lainnya yang tergabung dalam Balanced Pack (Agumon dan Salamon), Attack Pack (Guilmon dan Snow Agumon), Speed Pack (Muchomon dan Monodramon) atau Japanese Pack (Kudamon dan Biyomon).
Sedangkan pada Dusk, digimon "starter"-nya adalah Lunamon dan ditemani oleh Gaomon dengan Solarmon (Balanced Pack), Black Agumon dengan Goburimon (Attack Pack), Tentomon dengan Keramon (Defense Pack) atau Bearmon dengan Palmon (Pretty Pack).
Selain itu misi yang harus dituntaskan dalam game ini adalah untuk mencari penyebab dari gempa yang mengguncang Dunia Digital, sekaligus memulihkan kondisi dari Dunia Digital yang rusak. Pemain akan menjelajahi dunia Digital yang berbeda-beda tergantung dari seri yang dimainkan. Selain itu, pemain juga mempunyai Kebun Digital yang digunakan untuk merawat dan melatih Digimon yang sudah ditangkap.
Mirip dengan Tamagochi, namun dengan device yang berbeda-beda. Misalnya saja ada device untuk menambah attack dari Digimon tersebut. Selain itu, Digimon yang berbasis elemen-elemen tertentu bisa ditambah kekuatannya, dengan memasang environment yang cocok untuk Digimon tersebut. Karakter yang dimainkan pun juga mempunyai rumah sebagai basecamp-nya.
Secara keseluruhan game ini sangat bagus, mulai dari konsep, jalan cerita, dan gameplay-nya. Namun yang kurang dalam game ini adalah dalam segi grafis yang terlalu kecil dan membosankan. Selain itu tulisan-tulisan percakapan antara NPC dengan karakter utama juga sangat kecil. Tetapi game ini cukup menghibur, terutama Anda penggemar berat Digimon 🙂
(ARD/Kitareview.com)