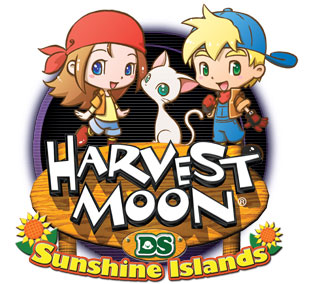 DATA GAME
Judul Game: Harvest Moon: Sunshine Island
Genre: Farming simulation
Judul Asli: Bokujou Monogatari – Kira kira to nakamatachi
Platform: Nintendo Dual Screen
Pengembang: Natsumi
Penerbit: Marvelous Entertainment
Estimasi Durasi Main: –
Tanggal Rilis: 10 November 2009
Rating ESRB: E (Everyone)
STORYLINE
Harvest Moon: Sunshine Island bisa disebut game sequel dari Harvest Moon: Island of Happiness. Masih menggunakan karakter-karakter dari Island of Happiness, namun berada pada pulau yang berbeda. Pulau yang kita tempati kali ini adalah Sunshine Island yang merupakan pulau tidak berpenghuni. Konon dahulu kala pulau ini merupakan pulau yang makmur, namun diakibatkan terjadinya malapetaka pada pulau tersebut, maka semuanya itu hancur dalam sekejap. Tugas anda disini adalah untuk membangun pulau ini kembali.
PREVIEW/TRAILER
REVIEW GAME HARVEST MOON: SUNSHINE ISLAND
Marvelous banyak melakukan perubahan dalam game ini. Hal yang paling terasa adalah Anda tidak perlu terus-terusan menggunakan stylus dalam bermain, karena pada game Sunshine Island ini lebih keypad friendly. Hingga Anda bisa lebih mudah beraktivitas menanam, merawat ternak dan berlarian kesana kemari tanpa kita perlu sedikit-sedikit mengeluarkan stylus.
Selain masih menggunakan karakter-karakter dari Island of Happiness, pada game kali ditampilkan 2 karakter baru, Will dan Selena yang dapat Anda nikahi pada akhirnya. Hewan-hewan yang dapat anda pelihara pun jadi bertambah banyak, dengan adanya kucing dan babi. Hal ini membuat pulau menjadi semakin semarak.
Yang lebih menyenangkan dalam perlombaan kali ini semakin menarik, karena adanya mini games untuk memenangkan pertandingan. Belum lagi kali ini Anda dapat meminta tolong kepada para kurcaci untuk membantu dalam mengurus perternakan Anda.
Pada game Sunshine Island ini, mereka masih menggunakan sistem bercocok tanam yang sama seperti game Island of Happiness, dimana satu tanaman mempunyai kebutuhan air dan sinar matahari yang berbeda-beda. Yang pasti game ini akan membuat Anda teringat kembali dengan game Harvest Moon: Back to Nature di console Playstation, yang sempat tenar awal tahun 2000-an lalu. Hanya saja kali ini dengan karakter-karakter baru, yang membuat Anda semakin asik untuk bermain. Let's go farming!
(Ista/Kitareview.com)