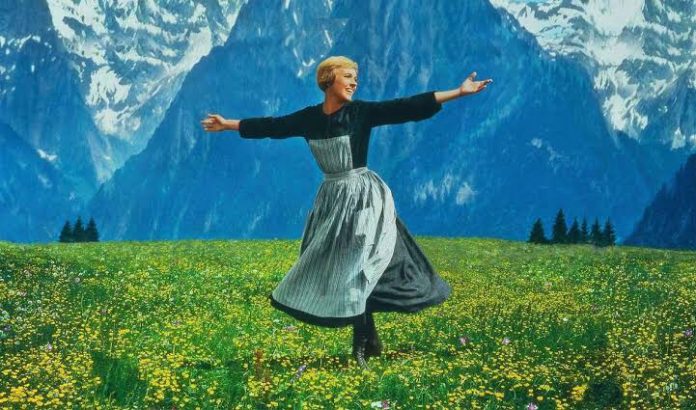 DATA FILM
Judul Film: The Sound Of Music
Genre: Drama – Keluarga – Musikal
Sutradara: Robert Wise
Penulis Skenario: Howard Lindsay – Russel Crouse – Ernest Lehman
Studio Produksi: Robert Wise Production – Twentieth Century Fox Corporation
Distributor: Twentieth Century Fox Corporation
Negara: Amerika
Bahasa: Inggris
Durasi: 167 menit
Tahun Rilis: 2 Maret 1965 (Amerika)
DATA LAINNYA
Penghargaan yang diperoleh:

Academy Awards 1966:

Sutradara Tebaik (menang)
Penyuntingan Terbaik (menang)
Best Music, Scoring of Music, Adaptation or Treatment (menang)
Best Sound (menang)
Best Picture (menang)
PEMERAN UTAMA
Julie Andrews sebagai Maria
Christopher Plummer sebagai Kapten Von Tapp
Eleanor Parker sebagai The Baronesse
Richard Haydn sebagai Max Detweiller
Peggy Wood sebagai Mother Abees
SINOPSIS FILM KLASIK THE SOUND OF MUSIC
Berkisah tentang Maria seorang biarawati berjiwa bebas yang senang menyanyi diatas bukit. Tingkahnya yang sedikit tomboy dan penuh gairah 'bersenang-senang' sangat kontras dengan suasana biara yang menuntut ke-khidmat-an dan sopan-santun.
Mother Abees lalu mengirim Maria ke rumah Kapten Von Trapp, yang baru saja kehilangan istri, untuk menjadi pengasuh anak disana. Celakanya, Kapten Von Trapp mempunyai 7 anak yang luar biasa bandelnya. Rupanya, anak-anak Von Trapp menjadi bandel karena kurangnya perhatian dan disiplin super ketat yang diterapkan oleh Kapten Von Trapp.
Lalu, dapatkah Maria yang tomboy ini meluluhkan hati anak-anak Von Trapp? Petualangan drama romansa yang sungguh indah dan menggetarkan pun segera dimulai..
TRAILER
REVIEW FILM KLASIK THE SOUND OF MUSIC
Ini adalah film musikal cantik yang sangat cocok ditonton semua keluarga di seluruh dunia. Dirilis pada tahun 1965, film yang disutradarai oleh Robert Wise ini menjadi hit besar dan memenangkan 5 penghargaan Oscar. Film ini juga menjulangkan nama Julie Andrews yang bermain mengesankan dalam memerankan Maria.
Selain jalan cerita yang enjoyable dan pengambilan gambar impresif arahan Robert Wise yang  akan memanjakan saraf visual Anda, film ini juga menyuguhkan sederet soundtrack yang sangat cantik, yang bahkan selalu membuat Kita terharu kala mendengarnya. Diantaranya yang menjadi ikon film ini adalah lagu 'Do-Re-Mi', walaupun yang lainnya juga tak kalah indahnya, seperti '16 going on 17′, 'Maria' atau lagu sendu 'Edelweiss'. Koreografinya pun sangat indah dan lucu, liat saja di lagu 'So long, Farewell', Anda pun akan sependapat dengan Kita 🙂
Selain disuguhi musik-musik yang cantik, ekspos pemandangan lanskap Austria dengan pegunungan Alpen-nya, membuat Kita kagum dengan keindahan alamnya. Kemudian ketika akhirnya keluarga Von Trapp menyanyikan 'Edelweiss' diatas panggung, yang bisa Kita lakukan hanyalah menyeka air mata dengan dada sesak penuh haru. Komplit sudah apa yang ditawarkan film ini. Semua momen dalam film ini adalah masterpiece. tak terlupakan.
Menonton film ini, Anda akan mendapatkan kisah megah tentang cinta, ketulusan, jiwa yang bebas, petualangan, dan patriotisme. Sangat menginspirasi dan mencerahkan. Kita, dan mungkin juga Anda, tak akan pernah bosan menontonnya, karena film ini selalu mampu menghangatkan kembali jiwa Kita setiap kali menontonnya =)
(SidVicious/Kitareview.com)