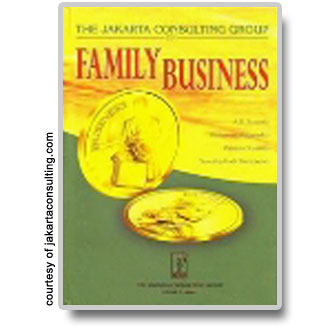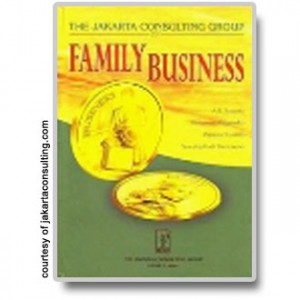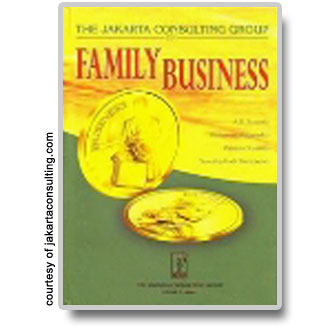 "..buku ini adalah salah satu buku terbaik yang membahas isu bisnis keluarga."

DATA BUKU

Judul Buku:

The Jakarta Consulting Group On Family Business

       

Jenis Buku: Umum             

Penulis:

AB Susanto – Himawan Wijanarko

–

Patricia Susanto

–

Suwahjuhadi

Penerbit:

Publishing Division The Jakarta Consulting Group

Bahasa: Indonesia

Cetakan Pertama:

2007

Tebal Buku: –

Dimensi Buku: –

No. ISBN: 979-2225-89-7

Website Resmi Penerbit: http://www.jakartaconsulting.com
Harga:

Gramedia:

Rp.250.000

(Harga Update November 2009)
SINOPSIS

New Edition of Family Business Handbook!
In the US alone, there are 24 million family businesses. 90% from the 15 million large businesses in the world are Family dominated. 59% from the United State GDP came from family business. However, the average lifespan of a family business is only 24years. With 70% of family businesses failed to continue to the next generation. (Multiple resources)
Family Business dominated the world economy, with large contribution and rapid growth, but short lifespan.
– How to combine business and family?
– How to manage conflict?
– How to prepare for succession?
– How to transform family business?
– How about the vision, leadership, and culture of family business?

REVIEW

Buku ini tersedia dalam bahasa Indonesia dan bahasa Inggris (kebetulan Kita membaca yang edisi bahasa Indonesia, maklum orang desa, ga ngundeng bahasa "bule"..Hahaha)
.
Buku yang tebal sekali. Kita sangat bergairah ketika membuka lembar demi lembar buku ini. Karena apabila membaca resensi dan b

ack cover

-nya, buku ini menjanjikan begitu banyak hal.
Dan perlu disadari bahwa sebagian besar perusahaan yang sukses di Indonesia, bahkan dunia, adalah perusahaan keluarga. Jadi dapat dikatakan bahwa perusahaan keluarga adalah motor penggerak perekonomian. Namun masalahnya, perusahaan keluarga ini memliki karakteristik yang berbeda dengan perusahaan konvensional. Nilai-nilai profesionalisme dapat berbenturan dengan nilai-nilai kekeluargaan. Pertarungan antar kepentingan, hingga masalah suksesi adalah penyakit lama perusahaan keluarga.
Buku ini membahas mulai dari ujung kepala sampai ujung kaki isu-isu tersebut. Namun sejujurnya Kita cukup kecewa membaca buku ini. Anda akan tertegun dan keasyikan ketika membaca setengah bagian depan buku ini, namun anda mungkin tertidur bosan ketika membaca setengah bagian belakangnya.
Buku yang tebalnya mirip buku telepon ini, memiliki banyak konten yang diulang-ulang dan terkesan normatis, tidak praktis (padahal JCG sendiri adalah praktisi). Alangkah lebih baik apabila buku ini dibuat lebih tipis, sehingga konten yang disajikan tampak lebih padat.
Tapi terlepas dari semua itu, buku ini adalah salah satu buku terbaik yang membahas isu bisnis keluarga
.
Jadi kalo anda saat ini memiliki perusahaan yang dijalankan oleh keluarga, ada baiknya anda membaca buku ini. =)
(Andi/Kitareview.com)