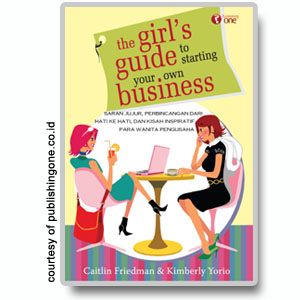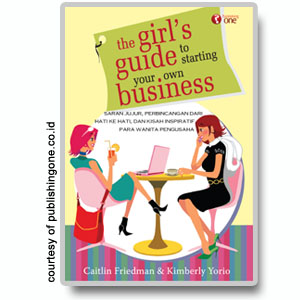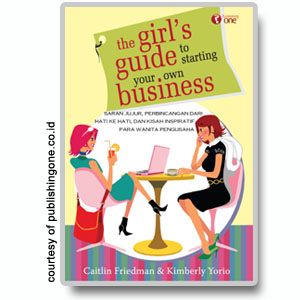 "Membaca buku ini seolah "ngerumpi" dengan teman wanita Anda tentang bisnis."

DATA BUKU
Judul Buku:

The Girl's Guide to Starting Your Own Business

Jenis Buku: Umum

Genre: Self Help – Bisnis


Penulis:

Caitlin Friedman & Kimberly Yorio

Penerbit:

Publishing One

Bahasa: Indonesia

Cetakan Pertama: 2009

Tebal Buku: 298 Halaman

Dimensi Buku (P x L): 14 x 21 cm   

Website Resmi Penerbit:


No. ISBN : 978-602-95-0798-0

Harga:

Gramedia:

Rp.50.000

(Harga Update April 2010)

SINOPSIS
Dihadapkan pada keunikan berbagai tantangan yang dihadapi oleh wanita pengusaha, The Girl's Guide to Starting Your Own Business menawarkan sejumlah solusi dan saran untuk menangani sejumlah persoalan, termasuk cara menulis sebuah rencana bisnis, mendapatkan dana, serta mempekerjakan (dan memecat) karyawan. Caitlin Friedman dan Kimberly Yorio membagi informasi praktis yang diambil dari pengalaman mereka di industri humas, pemasaran dan konsultasi. Saran mereka yang jelas dan menarik dijelaskan dalam sejumlah tips, daftar, dan kuis yang berbicara menyentuh hati para wanita yang bermimpi untuk memulai, atau telah memulai, bisnis mereka sendiri.

REVIEW

Membaca buku ini seolah "ngerumpi" dengan teman wanita Anda tentang bisnis. Sang teman ini akan menanyakan pada Anda, apakah Anda benar-benar ingin dan siap menjalani bisnis serta apakah berbisnis memang dunia yang tepat untuk Anda. Bila Anda menjawab iya, maka teman Anda ini akan membagikan pengalaman dan tips-tips nya kepada Anda. Mulai dari jenis badan usaha, 

business plan

, pemasaran, hingga cara menjadi Bos untuk orang lain, dapat Anda termukan dalam buku ini.
Bahasanya yang ringan membuat apa yang tertulis di dalamnya terasa

fun

dan mudah dimengerti. Pada beberapa bagian, buku ini menjelaskan tentang definisi-definisi dari beberapa istilah bisnis. Di bagian-bagian lain, Anda juga akan diajak mengikuti pengalaman personal mereka menghadapi klien, mengatasi emosi dengan professional, membagi waktu dengan keluarga, dan sebagainya. Tak hanya mereka berdua, Anda juga akan menjumpai beberapa tokoh bisnis wanita lain dalam buku ini yang turut andil memberikan tips kepada Anda.
Salah satu hal menarik dalam buku ini yaitu, pada beberapa bagian ketika penulisnya mereferensikan sebuah lembaga atau situs tertentu yang mengacu pada standar di Amerika (karena buku ini berasal dari Amerika), pihak penerbit disini ternyata juga ikut memasukkan lembaga atau situs yang mengacu pada standar Indonesia. Dengan demikian, Anda bisa mengecek standar-standar yang berlaku di Indonesia juga.
Meskipun di judulnya terdapat kata "the girl's guide", namun buku ini juga dapat berguna bagi kaum pria. Bila Anda tertarik atau baru saja membuka bisnis sendiri, buku ini bisa jadi sangat membantu. Selamat membaca, dan berbisnis! =)
(floresiana/Kitareview.com)