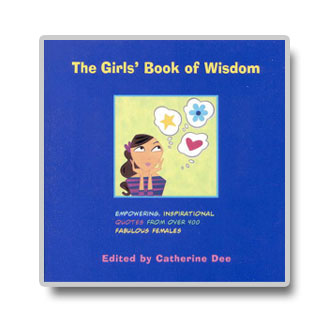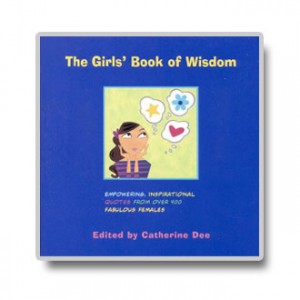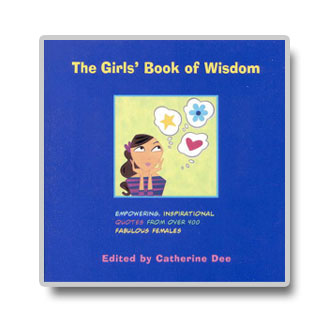 "Buku Catherine Dee yang satu ini memang cocok sekali untuk remaja yang dalam proses pencarian jati dirinya."

DATA BUKU
Judul Buku: The Girl's Book Of Wisdom


Jenis Buku: Umum

Genre: Motivasi


Penulis: Catherine Dee

Penerbit: Bhuana Ilmu Populer (Kelompok Gramedia)

Bahasa: Indonesia

Cetakan Pertama: 2004

Tebal Buku: 190 Halaman

Dimensi Buku (P x L): –


No. ISBN: 979-69-4502-9

Website Resmi Penerbit: –

Harga:


Gramedia:

Rp.25.000

(Harga Update Januari 2009)

SINOPSIS


Buku luar biasa ini merupakan koleksi kutipan ringan, menggerakkan, dan inspiratif dari para wanita sukses dan terkenal sepanjang masa. Dengan membaca buku ini, Anda akan tahu apa saja prinsip mereka tentang persahabatan, olahraga, kesendirian, kemandirian, kreativitas, asmara, karier, dan banyak lagi.
Anda pun akan menemukan kutipan – kutipan favorit:
Hellen Keller

Whoopi Goldbreg

Hillary Rodham Clinton

Maya Angelou

Sandra Bullock

Sheryl Crow

Mary Kay Ash

REVIEW
The Girl's Book Of Wisdom, buku ini di kemas dengan bahasa sehari-hari yang ringan karena segmennya memang di tujukan untuk kalangan remaja. Walaupun Anda yang sudah bukan remaja, tetap bisa menikmati buku menarik ini. Tak perlu takut dahi Anda akan berkerut gara-gara membaca buku motivasi ini. Karena di dalamnya Anda tidak akan menemukan alinea-alinea panjang dari satu pengarang saja, melainkan kutipan-kutipan singkat, dengan bahasa yang

catchy

, namun sangat inspiratif, yang mungkin dari artis idola Anda, atau dari tokoh wanita yang anda kagumi.Salah satunya kutipan aktris terkenal Hollywood, Kate Winslet, dalam Bab Kecantikan,
"Hei,hei.. !Hidup tidak hanya berkisar pada wajah. Ada banyak hal yang dapat di kerjakan dalam hidup."
Atau dari Renee Zellweger,Aktris dalam Bab Menyendiri
"Aku senang berada di suatu tempat yang sunyi dan hanya ada suara hembusan angin serta gemerisik pepohonan.."
Buku Catherine Dee yang satu ini memang cocok sekali untuk remaja yang dalam proses pencarian jati dirinya. Karena banyak sekali kutipan-kutipan inspiratif yang mengandung pelajaran hidup, yang bisa ditemukan di sini.
Membaca buku ini, sambil di iringi musik easy listening dan segelas coklat hangat, adalah ide yang sangat bagus. Setelah itu, Anda bisa merasakan betapa indahnya hidup, dan betapa ada banyak hal yang bisa Anda nikmati dalam hidup.. =)
(JengRatna/Kitareview.com)