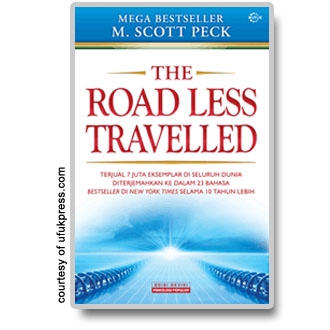 DATA BUKU
Judul Buku:

The Road Less Travelled

Jenis Buku: Umum
Judul Asli: The Road Less Travelled
Penulis: M. Scott Peck
Penerbit: Ufuk Press
Bahasa: Indonesia
Cetakan Pertama: Mei 2009
Tebal Buku: 416 halaman
Dimensi Buku (P x L): 15 x 23 cm
ISBN: 602-8224-00-0
Website Resmi Penerbit: –
Harga:

Gramedia: Rp.64.900
BukuKita.com: Rp. 51.920
(Update November 2009)
SINOPSIS
 BUKU THE ROAD LESS TRAVELLED
Buku ini seperti magnet spontan untuk menumbuhkan kebahagiaan sejati. Kini, dengan pengantar dan update terbaru, M. Scott Peck menwarkan ide-ide segarnya yang mampu membimbing Anda menjalani hidup yang lebih baik dan bahagia.
Dengan penyampaian yang renyah, mengalir, serta dilengkapi dengan kisah-kisah nyata dalam kehidupan; The Road Less Travelled akan menyulap Anda menjadi pribadi yang menakjubkan sekaligus mengantarkan Anda menuju kedamaian dan kesempurnaan hidup.
REVIEW BUKU THE ROAD LESS TRAVELLED
Tidak salah jika buku ini disetarakan dengan buku "Think and Grow Rich" karya Napoleon Hill. Buku ini akan membimbing anda untuk menjalani hidup yang lebih baik dan bahagia. Pertama kali dipublikasikan pada tahun 1979, buku ini terus mengalami cetak ulang. Bahkan telah menjadi best seller di New York Times selama lebih dari 10 tahun, serta diterjemahkan ke berbagai bahasa, termasuk bahasa Indonesia.
Buku ini terdiri dari empat bahasan pokok, yaitu: disiplin, cinta, perkembangan, berkah. Scott Peck menempatkan disiplin pada poin pertama karena berpendapat bahwa disiplin adalah kunci utama untuk mencapai kebahagian hidup yang sejati.
Kemudian penulis melanjutkan dengan pembahasan mengenai arti cinta dengan mendalam. Banyak sekali pandangan-pandangan penulis yang akan "mengguncangkan" pikiran anda. Seperti pendapat bahwa jatuh cinta bukanlah cinta, tetapi itu adalah dorongan genetis seseorang.
Pada topik pembahasan mengenai perkembangan, pandangan anda mengenai agama sedikit banyak akan terusik. Terutama untuk kaum dogmatis, namun penjelasan yang diberikan cukup logis menurut saya, dan Scott Peck dalam karyanya tidak bertujuan untuk mendiskreditkan agama, justru membantu anda untuk melihat agama dari sudut pandang yang berbeda.
Bagian terakhir yaitu berkah adalah pembahasan yang sangat Kita sukai setelah disiplin. Topik pembahasan ini mengajarkan kepada anda betapa beruntungnya umat manusia yang berkelimpahan berkah, namun seringkali tidak menyadarinya.
Kita akui, banyak sekali pembahasan yang menarik dari buku ini, selain dari keempat topik utama yang telah Kita sebutkan. Salah satunya adalah memaknai sakit. Seringkali manusia berpikir bahwa sesuatu yang menyakitkan itu harus dihindari atau bahkan mengutuknya, sehingga melupakan bahwa ternyata rasa sakit itu memiliki makna tersendiri.
Silakan baca buku ini jika anda ingin tahu lebih lanjut. Anda tidak akan menyesal telah meluangkan waktu untuk membaca buku ini! =)
(Gerry/Kitareview.com)