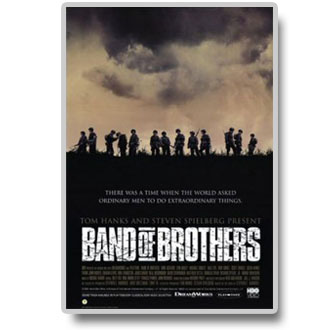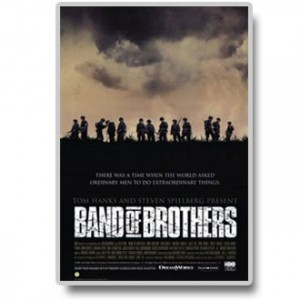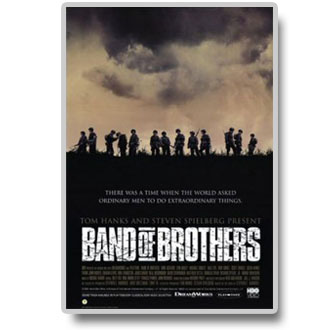 "..film ini tidak hanya menonjolkan aksi-aksi saling tembak menembak, tapi juga menampilkan kemelut yang ada di dalam pasukan."

DATA SERIAL
Judul Serial: Band of Brothers


Genre: Action

Sutradara: Phil Alden Robinson – Richard Loncraine – Mikael Salomon – David Nutter – Tom Hanks – David Leland – David Frankel – Tony To

Produser: Steven Spielberg (executive) – Tom Hanks (executive) – Preston Smith – Erik Jendresen – Stephen Ambrose

Penulis Skenario: Stephen Ambrose (Novel) – Erik Jendresen – Tom Hanks – John Orloff – E. Max Frye – Graham Yost – Bruce C. McKenna – Erik Bork


Studio Produksi: DreamWorks Television – Home Box Office – Playtone – British Broadcasting Corporation

Distributor:

Home Box Office

Negara: Amerika Serikat – Inggris

Bahasa: Inggris – Jerman – Prancis –  Belanda – Spanyol – Italia

Durasi: 706 menit (total)


Jumlah Episode: 10

Tanggal Tayang: 9 September 2001 – 4 November 2001 (Amerika)


PEMERAN UTAMA   
Kirk Acevedo sebagai Staff Sergeant Joseph Toye

Eion Bailey sebagai Private First Class David Kenyon Webster


Dale Dye sebagai Colonel Robert F. Sink

Colin Hanks sebagai First Lieutenant Henry Jones

Frank John Hughes sebagai Staff Sergeant William "Wild Bill" Guarnere

Rene L. Moreno sebagai Technician Fifth Grade Joseph Ramirez

David Schwimmer sebagai Captain Herbert Sobel

Douglas Spain sebagai Technician Fifth Grade Antonio C. Garcia

Richard Speight, Jr. sebagai Sergeant Warren "Skip" Muck

Rick Warden sebagai First Lieutenant Harry Welsh

   
SINOPSIS


Band of Brothers adalah miniseri televisi mengenai Perang Dunia II, ditayangkan oleh HBO pada 2001 dengan produser Steven Spielberg dan Tom Hanks. Menceritakan pengalaman Company E ("Easy Company") dari 506th Parachute Infantry Regiment, United States 101st Airborne Division dari saat berlatih, pendaratan di Normandy, Operation Market Garden, Pertempuran Bastogne, sampai akhir perang, miniseri ini didasarkan pada buku dengan judul sama, tulisan ahli sejarah Stephen Ambrose.
TRAILER

REVIEW


Film miniseri Band Of Brother ini cukup kental dengan suasana Perang Dunia II, dimana AS melakukan Invasi pada German. Tapi tidak seperti film-film perang pada umumnya, film ini tidak hanya menonjolkan aksi-aksi saling tembak menembak, tapi juga menampilkan kemelut yang ada di dalam pasukan. Mulai dari pimpinan yang sangat sadis tapi tidak bisa memimpin perang, hingga keraguan-keraguan yang muncul saat berada di medan perang.

Efek yang di tampilkan sangat nyata, seperti suara ledakan, partikel yang melayang karena ledakan, efek tentara yang tertembak, hingga efek suara peluru yang melewai telinga. Suasana pada saat perang juga sangat terasa menegangkan, didukung oleh special efek yang canggih dan jalur cerita yang tidak tertebak, menjadikan medan perang sebagai tempat yang tidak terkendalikan.

Ditengah-tengah film ini, akan dibuktikan bagaimana kepiawaian seorang pemimpin akan menentukan nasib para bawahannya, akan di tampilkan bagaimana dilema dalam pengambilan sebuah keputusan disaat situasi penuh dengan tekanan. Sebuah keputusan yang salah akan membuat jiwa seluruh batalyon melayang percuma.

Monolog para saksi mata kejadian saat awal episode juga menjadikan film ini terasa sangat nyata. Intrik-intrik di dalam film menjadikan perubahan pandangan tentang pasukan yang berperang. Karena pada dasarnya semua pasukan dalam peperangan adalah sama-sama manusia, dan hanya menerima perintah dari atasan. Selamat menonton!
(Adhitia/KitaReview.com)