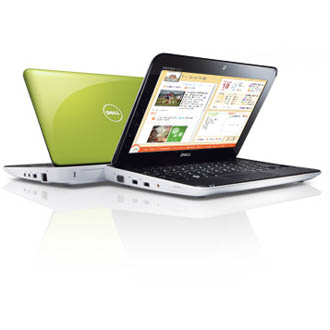 DATA NETBOOK
Tipe Netbook: Dell Inspiron Mini 1012 (N470)
Produsen: Dell
Website: http://www.dell.com
Harga:
SPESIFIKASI
Processor: Intel Atom N470 (1.83Ghz, 512KB L2 667Mhz FSB)
Standard Memory: 1GB DDR2
Video Type: GMA X4500MHD
Display Size: 10.1″ WSVGA
Audio Type: Integrated Stereo
Hard Drive Type: HDD 250GB 5400RPM
Networking: Ethernet 10/100
Wireless: Integrated WiFi 802.11g
Wireless Bluetooth
O/S: Win 7 Starter
Card Reader: Integrated
Port USB x3
Battery Type: 6-cell battery
Additional Info Webcam
Packet Included: Antivirus 15 Months McAfee, Office Home & student 60day, Softcase
REVIEW LAPTOP DELL INSPIRON MINI 1012 (N470)
Netbook Dell Inspiron Mini 1102 ini adalah penerus dari Ispiron Mini 1011. Ada sedikit perbedaan pada seri 1012 ini, yaitu memiliki bentuk yang agak memanjang, yang terlihat jelas pada bagian belakangnya. Dari sisi hardware juga banyak mengalami perubahan seperti pada prosesor, dimana sebelumnya menggunakan Prosesor N280 (1,66 GHz), sekarang menjadi N470 (1,83 GHz), dan pada OS (Operating sistem) sebelumnya Windows XP menjadi windows 7 starter.
Posisi input adaptor berada di belakang, dengan indikator power led untuk adaptor teradapat pada jack input adaptor ke netbook. Memiliki 3 input usb, 1 vga port, 1 card sd.ms/mmc, 1 lan card, 1 audio out dan 1 line mic in. Dengan spesfikasi ini, Kita rasa sudah cukup untuk mendukung aktifitas dalam belajar dan kebutuhan untuk mobile, karena mudah dibawa-bawa.
Rating diberikan oleh windows 7 untuk netbook ketika adaptor tidak dihubungkan adalah 2,6 seperti pada gambar dibawah ini. Windows 7 recovery di netbook membuat begitu mudah dalam melakukan install ulang, sehingga seperti awal kondisi membeli.
Langkah untuk recovery Windows adalah sebagai berikut:
Nyalakan netbook dengan posisi adaptor tersambung ke netbook
Tekan F8 sebelum masuk tampilan windows
Pilih repair your computer kemudian tekan enter
Muncul untuk keybord input method klik next
Tampil user name dan password di klik OK jika masih default
Pilih dell data safe restore and emergency backup
Select other system backup and more options
Pilih restore my computer
Kemudian pilih system backups pada netbook, atau file yang muncul pada bagian kolom tersedia setelah itu klik next.
Kamampuan baterai yang dimiliki Inspiron 1012 ini mampu mencapai lebih dari 4 jam. Namun sedikit disayangkan indikator untuk wireless seperti LED, tidak terdapat pada netbook ini. Sehingga sedikit membingungkan apakah wireless sudah aktif atau belum. Selain itu, dalam pemakaian yang cukup lama, panas yang dihasilkan begitu terasa.
(Donny/Kitareview.com)