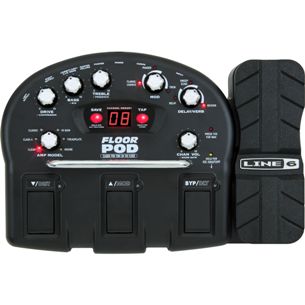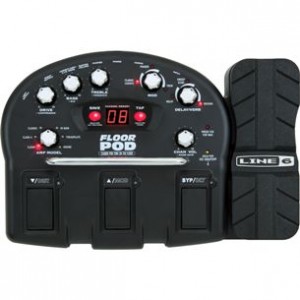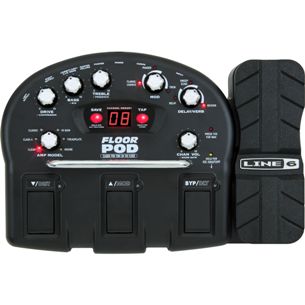 "Efek bagus, namun sudah tidak ada lagi yang baru"
DATA EFEK GITAR
Nama Efek Gitar: Floor POD

Produsen: line6

Website: line6.com
Harga:

SPESIFIKASI
12 amp and cabinet models

Smart Control FX (7 types, 2 simultaneous): phaser, chorus, flanger, tremolo, delay, reverb

Built-in volume/wah pedal

64 presets

3 footswitches

On-board tuner

CD/MP3 input jack

Stereo 1/4″ outs

Chrome knobs

Chrome handlebar
REVIEW
Multi efek  dikeluarkan oleh Line 6 ini cukuplah memuaskan hati bagi para gitaris, khususnya aliran musik yang keras dan menghentak. Dengan disuguhkannya fitur seperti 12 tipe ampli yang berbeda sehingga para gitaris dapat mengeksplor sound distorsi apa yang mereka inginkan. Selain itu juga, terdapat modulation berupa flanger, chorus, phaser, dan tremolo. Serta tidak ketinggalan delay, echo, dan reverb yang memperkaya dari karakter sound yang dihasilkan.
Efek yang cukup sederhana ini, mempunyai 4 pedal berfungsi sebagai pemindah bank secara up and down, bypass, serta pedal yang mengatur volume dan juga  bisa digunakan sebagai pedal. Bank atau Patch disediakan berjumlah 64 nomor dan bisa di kostumisasi sesuai dengan keinginan penggunanya. Serta tidak kalah pentingnya adalah "tuner", karena fitur ini memang sangat vital dalam setiap multiefek, tidak terkecuali dengan POD Floor ini.
Kelebihan dari POD Floor ini adalah kemudahannnya dalam setting setiap sound yang diinginkan. Tidak terlalu ribet dengan menekan-nekan tombol tertentu untuk memilih fitur yang tersedia, cukup dengan memutar knop yang ada dalam setiap jenis efeknya. Selain itu, distorsi dihasilkan juga lumayan bervariasi sehingga dapat disesuaikan dengan karakter musik dari gitaris tersebut. Namun, jika ada kelebihan pasti selalu ada kekurangan pada setiap produk. Kekurangan paling mencolok adalah tombol tunner yang susah diaktifkan ketika kita berada diatas panggung dengan menggunakan sepatu. Selain itu, karakter sound clean dari POD FLoor ini dirasa kurang. Overal, produk dari Line 6 ini memang cukup bagus di kelasnya karena memuat sebegitu banyak fitur dengan pengoperasian yang cukup simpel, dan ada satu lagi kekurangannya, yaitu produk ini sudah tidak diproduksi lagi tapi ada pengantinya yaitu Floor POD Plus.
(ARD/Kitareview.com)