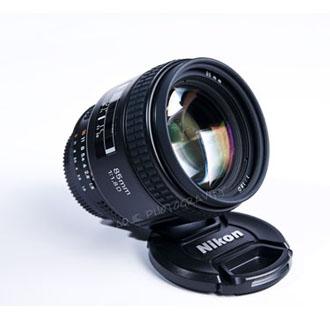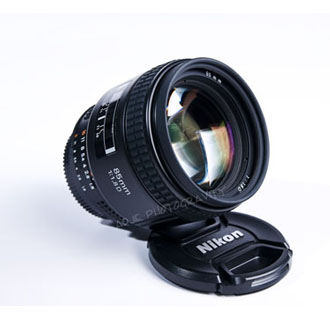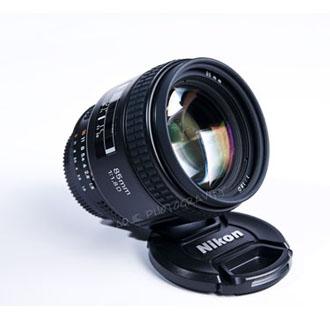 "Kita sangat merekomendasikan lensa ini untuk photographer yg menyukai foto-foto portrait, modeling dan produk."
Tipe Lensa:

Nikkor 85mm f1.8

Produsen: Nikon

Website: http://www.nikon.co.id

Harga:

Baru:

Rp.4.000.000

–

Rp.4.600.000

Second: 

±Rp.3.000.000

(Harga Update Februari 2010)
SPESIFIKASI
Lens construction: 6 elements in 6 groups

Number of diaphragm blades: 9 (rounded)

Minimum f/stop: 16

Closest focusing distance: 0.85m

Maximum reproduction ratio: 1/9.2

Lens cap: Snap-on

External front filter attachment frame: Does not rotate

External front filter: 62mm

AF-3: Usable. (2)

Material of bayonet ring: Metal

Picture angle: 28°30′ [18°50′ with Nikon digital cameras (Nikon DX format)]

Dimensions (approx.) (from the camera lens mounting flange): 71.5 – 58.5 mm

Weight (approx.): 380 gram
REVIEW
Lensa ini sudah agak lama berada di pasaran, namun sulit untuk mencari tandingannya dalah hal ketajamannya dan kualitas. Dengan focal length 85 mm, lensa ini sangat enak digunakan untuk membuat foto portrait, close up, dan juga untuk fotografi produk. Dengan bukaan terbesar 1.8, ketajaman lensa ini sangat baik  bahkan dibandingkan dengan lensa-lensa Nikon lain, yang umumnya memang tajam. Biasanya lensa dengan bukaan besar, ketajamannya justru menurun di bukaan terbesarnya. Tapi lain halnya dengan lensa ini. Lensa ini mampu mempertahankan ketajamannya di bukaan f.1.8 dan inilah salah satu fitur unggulannya. Untuk selera Kita pribadi, lensa ini optimal ketajamannya di bukaan f.2.
Bukaan-nya yang besar dibantu dengan focal length yang sudah termasuk ke dalam kategori telephoto lens, membuat foto hasil lensa ini memiliki ruang tajam yang sangat sempit dan dapat mem-blur-kan background dengan sangat indah.  "Bokeh" atau out of focus blur lensa ini sangat soft dan creamy, hal ini dikarenakan focal blade berjumlah 9, yang membuat bukaan diafragma lensa ini nyaris bulat sempurna. Bila digunakan pada kamera dengan sensor APS-C (non full frame), focal length-nya setara dengan 124,5 mm pada kamera full frame. Memang angle-nya menjadi agak sempit, tapi Kita pribadi tidak merasa terganggu dengan hal ini, karena memang lensa umumnya Kita digunakan untuk portrait  atau produk.

Build Quality lensa ini tergolong sangat baik, kokoh, dan walaupun bahan luarnya plastik, tetap terasa mantap. Satu satunya kekurangan mungkin ketiadaaan Autofocus motor, sehingga kamera body yang tidak mempunyai autofocus motor seperti Nikon D3000, D5000, dan D60, hanya bisa menggunakan lensa ini dengan manual focus.
Harga lensa ini, barunya berkisar antara Rp.4 juta hingga Rp.4,6 juta. Bila Anda membandingkan dengan "kakaknya", Nikkor 85 f1.4, yang dibanderol Rp.11 juta, maka lensa ini adalah alternatif yang lebih murah dengan kualitas yang tidak jauh berbeda. Justru dari segi autofocus, 85 mm f1.8 sedikit lebih cepat dibanding  85 mm f1.4. Hal ini mungkin disebabkan oleh si f1.4 itu lebih besar dan bahannya metal.
Dengan rating rata-rata 5 out of 5 stars di berbagai website penguji lensa di dunia, maka Kita sangat merekomendasikan lensa ini untuk photographer yg menyukai foto-foto portrait, modeling dan produk.