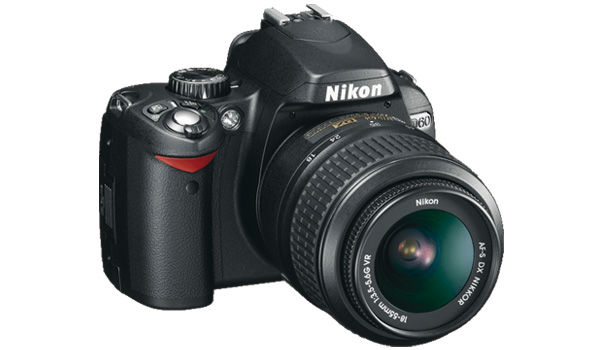 DATA KAMERA
SPESIFIKASI
Image Sensor Format: DX
Image Sensor Type: CCD
Sensor Size: 15.8 x 23.6mm
Total Pixels: 10.75 million
Effective Pixels: 10.2 million
Image Area (pixels):

DX-format
(L) 3,872 x 2,592
(M) 2,896 x 1,944
(S) 1,936 x 1,296

Slowest Shutter Speed: 30 sec. in steps of 1/3 EV
Fastest Shutter Speed: 1/4000 sec. in steps of 1/3 EV
Bulb Shutter Setting: Yes
Lowest Standard ISO Sensitivity: 100 in steps of 1 EV
Highest Standard ISO Sensitivity: 1,600 in steps of 1 EV
Highest Expanded ISO Sensitvity: HI1 (3200 equivalent)
Storage Media:
Card Slot: 1 Secure Digital (SD)
File Format:

AVI
Compressed 12-bit NEF (RAW) JPEG (Baseline Compliant)

Approx. Dimensions:

Width 5.0 in. (126mm)
Height 3.7 in. (94mm)
Depth 2.5 in. (64mm)

Approx. Weight: 16.1 oz. (495g)
FITUR LAINNYA
Extraordinary 10.2-Megapixel DX-format Nikon Picture Quality
Includes AF-S DX NIKKOR 18-55mm f/3.5-5.6G VR (Vibration Reduction) Image Stabilization Lens
Fast Startup and Split-Second Shutter Response
Shoot Continuously at up to 3 Frames per Second
2.5-Inch, 230,000-Dot Color LCD Monitor with 170-Degree Wide-Angle Viewing
Nikon 3D Color Matrix Metering II
Built-in Speedlight with i-TTL Automatic Flash Control
Stop motion video
Nikon's Smallest Digital SLR Ever!
REVIEW KAMERA NIKON DIGITAL SLR D60

Sejak hilangnya Nikon DSLR D40, D40x dan D50 dari peredaran, Nikon memperkenalkan kamera entry level pengganti yaitu D60. Banyak orang awam atau orang yang tidak memperhatikan spesifikasi teknis D60, berpendapat bahwa D60 memiliki kemampuan yang sama dengan pendahulunya. Hal ini disebabkan karena secara fisik D60 tidak memiliki perbedaan dengan D40 atau D40x. Dimensinya sama persis dan beratnya pun kurang lebih sama. Salah satu hal terpenting yang menjadikan D60 dan D40x berebeda adalah, walaupun kedua kamera tersebut sama-sama  dibekali dgn sensor image 10.2 mega pixel, akan tetapi D60 sudah mengusung sensor CCD yg lebih baru, dengan teknologi EXPEED yangg membuat hasil foto D60 lebih bersih di ISO tinggi dan keadaan yang low light. Bahkan dalam hal ini, D60 baik bila dibandingkan dengan Nikon D80, yang memang memiliki sensor image sama dengan D40x.
Kelebihan lain yang dimiliki kamera ini bila dibandingkan dengan D40x adalah adanya auto image sensor cleaning. Image sensor cleaning adalah mekanisme membersihkan sensor kamera dengan menggunakan vibrasi dan teknologi airflow. Fitur ini sangat membantu menjaga sensor kamera agar tetap bersih. Fitur baru lainnya dari D60 ini adalah kemampuannya membuat stop motion movie dan sensor mata (LCD otomatis mati bila mata meninggalkan viewfinder).
Kamera ini adalah kamera yang cocok untuk pemula atau fotografer amatir yang mulai merambah dunia professional. Dengan harganya yang murah dibandingkan DSLR yg lain, kamera ini juga cocok untuk dijadikan modal awal untuk membuka bisnis foto, seperti foto prewedding dan wedding. Resolusi yang tinggi dari kamera ini juga membuatnya mampu menghasilkan cetakan foto ukuran besar dengan baik.
Kekurangan dari kamera ini adalah tidak adanya built-in autofocus motor di body, sehingga untuk bisa melakukan autofocus, anda harus menggunakan lensa Nikon AF-S yg memiliki motor pada lensanya, dan harga lensa ini relatif mahal. Kekurangan lain dari Nikon D60  adalah tidak adanya fitur Commander Mode, Bracketing dan High Speed Sync Flash yang cukup berguna untuk fotografer tingkat lanjut.
Lensa KIT VR nya juga menurut pendapat Kita, kurang begitu memberikan hasil yang memuaskan. Karena walaupun harganya lebih mahal disbanding lensa KIT 18-55 EDII, akan tetapi lensa VR ini tidak mampu menghasilkan kekontrasan dan warna yang sebaik 18-55ED. Ditambah lagi, untuk focal length 18-55, fitur VR sebetulnya tidak terlalu dibutuhkan, karena focal length maksimalnya (55) masih relatif stabil. Jadi menurut pendapat Kita, lebih baik membli D60 KIT dengan Lensa ED, karena lebih murah sekitar 400-600 ribu. Atau membeli D60 body only dan membeli lensa lain yangg lebih baik kualitasnya, seperti Nikkor 18-70 ED (harga sekitar 2,9 juta).
Secara keseluruhan, kamera ini sangat baik, karena dengan fitur yang  dimiliki oleh kamera ini, harganya tergolong murah. Bagaimana suka dengan review kamera Nikon Digital SLR D60 dari Kitareview.com ini? Semoga bermanfaat, jangan lupa like dan share review ini ya 🙂
(Adjie/Kitareview.com)