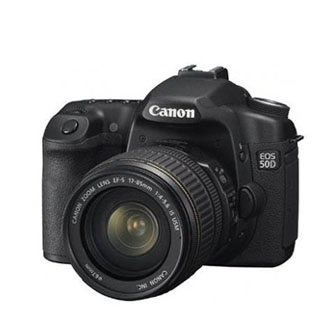 "Kamera semi profesional yang mudah di gunakan"
DATA KAMERA
Sensor :
22.3 x 14.9 mm CMOS sensor

RGB Color Filter Array

Built-in fixed low-pass filter (with self-cleaning unit)

15.5 million total pixels

15.1 million effective pixels

3:2 aspect ratio
processor : DIGIC 4
A/D conversion : 14 bit
Image sizes :
4752 x 3168

3456 x 2304

2353 x 1568
File formats :
RAW (.CR2; 14-bit)

JPEG (EXIF 2.21) – Fine / Normal

RAW + JPEG (separate files)

sRAW1 (7.1 MP)

sRAW2 (3.8 MP)
Lenses :
Canon EF / EF-S lens mount

1.6x field of view crop
Dust reduction :
EOS Integrated Cleaning System

Self-cleaning sensor unit (filter in front of sensor vibrates at high frequency at start-up and shutdown – can be disabled)

Dust Delete Data – Data from a test shot is used to 'map' dust spots and can be later removed using Canon DPP Software
Auto focus :
9-point TTL CMOS sensor

All points cross-type for lenses of F5.6 or faster

Center point additionally sensitive with lenses of F2.8 or faster

AF working range: -0.5 – 18 EV (at 23°C, ISO 100)
Focus modes :
One shot AF

AI Servo AF

AI Focus AF

Manual focus
AF point selection :
Predictive AF : Up to 8 m
AF assist : Stroboscopic flash
AF microadjust :
+/- 20 steps

Adjust all lenses by same amount/individually adjust up to 20 lenses
Metering :
TTL 35 zone SPC

Metering range: EV 0.0 – 20 EV
Metering modes :
Evaluative 35 zone

Partial (9% at center)

Spot metering (approx. 3.8% at center)

Center-weighted average
AE lock :
Auto: One Shot AF with evaluative metering

Manual: AE lock button
Exposure compensation :
+/-2.0 EV

0.3 or 0.5 EV increments
Exposure bracketing :
+/- 2.0 EV

0.3 or 0.5 EV increments
Sensitivity :
Auto ISO (100-1600)

ISO 100 – 3200*

0.3 or 1.0 EV increments

H1 (6400) and H2 (12800) expansion
Shutter :
Focal-plane shutter

100,000 exposure durability

30 – 1/8000 sec

0.3 or 0.5 EV increments

Flash X-Sync: 1/250 sec

Bulb
Aperture values :
F1.0 – F91

0.3 or 0.5 EV increments
White balance :
Auto

Daylight

Shade

Cloudy

Tungsten

Fluorescent

Flash

Custom

Kelvin (2500 – 10000 K in 100 K steps)
WB bracketing :
+/-3 levels

3 images

Blue / Amber or Magenta / Green bias
WB shift :
Blue (-9) To Amber (+9)

Magenta (-9) to Green (+9)
Picture style
Standard

Portrait

Landscape

Neutral

Faithful

Monochrome

User def. 1

User def. 2

User def. 3
Custom image parameters :
Sharpness: 0 to 7

Contrast: -4 to +4

Saturation: -4 to +4

Color tone: -4 to +4

B&W filter: N, Ye, Or, R, G

B&W tone: N, S, B, P, G
Image processing :
Highlight tone priority

Auto lighting optimizer (4 settings)

Long exposure noise reduction

High ISO noise reduction (4 settings)

Auto correction of lens peripheral illumination (vignetting)
Color space :
Viewfinder :
Eye-level pentaprism

95% frame coverage

Magnification: 0.95x(-1 diopter with 50 mm lens at infinity)

Eyepoint: 22 mm

Interchangeable focusing screen Ef-A standard (2 other types optional)

Dioptric adjustment: -3.0 to +1.0 diopter
Focusing screens :
Ef-A (Standard Precision Matte – included) Optional

Ef-D (Precision Matte with grid)

Ef-S (Super Precision Matte for easier manual focus)
Mirror :
Quick-return half mirror (transmission:reflection ratio 40:60)

Mirror lock-up (once or multiple exposures)
Viewfinder info :
AF points

Focus confirmation light

ISO sensitivity

Shutter speed

Aperture

Manual exposure

AE Lock

Exposure compensation amount

AEB level

Spot metering area

Flash ready

Red-eye reduction lamp on

High-speed sync

FE Lock

Flash compensation amount

ISO speed (while changing)

WB correction (while changing)

Highlight tone priority icon *

B&W mode icon

Warnings

Maximum burst for continuous shooting

Buffer space
LCD monitor :
3.0 " TFT LCD

920,000 pixels

7 brightness levels

160 ° viewing angle

Dual anti-reflection
LCD Live view :
Live TTL display of scene from CMOS image sensor

100% frame coverage

30 fps

Real-time evaluative metering using CMOS image sensor

Best view or exposure simulation

Silent mode

Grid optional (x2)*

Magnify optional (5x or 10x at AF point)

Three AF modes – Live mode/Quick mode/Face Detection*

Histogram*

Remote live view using EOS Utility 2.0 (via USB or WiFi/Ethernet using WFT)
Record review :
Off

On (histogram via INFO button)
Display mode same as last used Play mode
Flash :
Auto pop-up E-TTL II auto flash

FOV coverage up to 17 mm (27 mm equiv.)

Guide number approx 13 m / 43 ft (ISO 100)

Cycle time approx. 3 sec

Flash compensation +/-2.0 EV in 0.3 or 0.5 EV increments

X-Sync: 1/250 sec
External flash :
E-TTL II auto flash with EX-series Speedlites

In-camera flash configuration (currently only 580 EX II)

Wireless multi-flash support

PC Sync
Shooting modes :
Auto

Creative auto *

Program AE (P)

Shutter priority AE (Tv)

Aperture priority AE (Av)

Manual (M)

Auto depth-of-field

Portrait

Landscape

Close-up

Sports

Night portrait

Flash off

Camera user settings 1

Camera user settings 2
Drive modes
Single

High-speed continuous: 6.3 fps *

Low-speed continuous: 3 fps

Self-timer: 2 or 10 sec (3 sec with mirror lock-up)
Burst buffer :
Large/Fine JPEG: 90 frames (with UDMA card)

RAW: 16 frames
Dimensions : 146 x 108 x 74 mm (5.7 x 4.2 x 2.9 in)
Weight
No battery: 730 g (1.6 lb)

With battery: 822 g (1.8 lb)
Firmware : User upgradablePortrait grip :
Optional WFT-E3/E3A

Optional BP-E2N battery grip

Optional BP-E2 battery grip
Connectivity :
USB 2.0 Hi-Speed

Video out

HDMI connector*

N3 type wired remote control

PC Sync flash terminal

Communication terminal on base for WFT-E3/E3A
Storage :
Compact Flash Type I or II (inc. FAT32)

Supports UDMA cards *

Canon Original Data Security Kit supported ("Original Image Data")

No CF card supplied
Power :
Lithium-Ion BP-511A rechargeable battery (supplied & charger)

Supports BP-511 / BP-511A / BP-512 / BP-514

CR2016 Lithium battery (date/time backup)

Optional AC adapter
Wireless connectivity
(optional WFT-E3/E3A)
Mounts on base of camera and also acts as vertical grip

Has its own BP-511A battery

Wireless 802.11b / 802.11g

Wireless security: WEP, TKIP/AES, WPA-PSK, WPA2-PSK

Wireless methods: Infrastructure or Ad Hoc

Wired ethernet (100 Base-TX)

Transfer: FTP, PTP (remote control by computer), HTTP (view / remote fire)

USB host capable: External hard drives, flash drives

USB comms: GPS devices (records coordinates and altitude in image header)
Setelah sukses dengan pendahulu EOS 40D, kemudian canon meluncurkan  eos 50D pada bulan agustus 2008.Merupakan kemera semi profesional yang mempunyai 15,01 mega pixel dengan body terbuat dari campuran magnesium, dan sudah dilengkapi dengan sensor cleaning, jadi mungkin sedikit aman untuk terhindar dari debu. Tapi bukan berarti bebas buka dimana saja untuk mengganti lensa apa lagi dipinggir jalan. Mungkin sedikit tips kalau mau ganti lensa yaitu body kamera di arahkan ke bawah dengan ruangan dianggap seteril, atau bisa di dalam tas atau pelindung dari aliran udara bebas.
Pertama membeli camera ini masih menggunakan firmware versi 1.0.5 kemudian melihat di forum-forum kelebihan kalau upgrade firmware versi 1.0.7 membuat hasil jepretan semakin mantap. Hanya sekedar mengingatkan sebelum upgrade, CF di format terlebih dahulu kemudian baru diletakan file firmwarenya ke CF untuk proses update.
Canon Eos 50D ini memiliki tampilan lcd dan tombol-tombolnya yang begitu mudah dipahami dan digunakan. Dengan viewfinder yang mempunyai informasi AF 9 titik dan parameter-parameter seperti iso, speed, aperture, exposure level, flash dan masih banyak lagi sangat memudahkan dalam setting ketika dalam posisi mengambil foto.
(Donny/Kitareview.com)