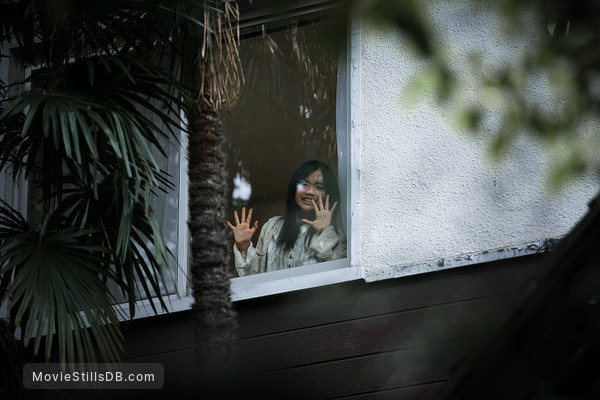 DATA FILM
Judul film: Ju-on: Shiroi rojo / The Grudge: Old Lady in White
Genre: Horor
Sutradara: Ryuta Miyake
Penulis skenario: Ryuta Miyake dan Takashi Shimizu
Produser: Takashige Ichise
Studio produksi: Toei Video Company
Distributor: Toei Video Company
Negara: Jepang
Bahasa: Jepang
Durasi: 61 menit
Tahun Rilis:

27 Juni 2009 (Jepang)
9 Juli 2009 (Korea Selatan)
PEMERAN UTAMA
Akina Minami sebagai Akane Kashiwagi
Hiroki Suzuki sebagai Fumiya Hagimoto
Mihiro sebagai Chiho Tanemura
Aimi Nakamura sebagai Junko Isobe
Marika Fukunaga sebagai Yuka Kanehara
Akiko Hoshino sebagai  Haru
Takuji Suzuki sebagai Hideki Yasukawa
Tsuyoshi Muro sebagai Atsushi Isobe
Ichirota Miyakawa sebagai Hajime Kashiwagi
SINOPSIS FILM JU-ON SHIROI ROJO
Di sebuah rumah, seorang anak secara brutal membunuh kelima anggota keluarganya setelah gagal ujian. Dia lalu menggantung diri, meninggalkan sebuah kaset rekaman di tempat kejadian berisi suara seorang gadis yang berkata, "Aku akan datang … Aku akan datang segera". Itu adalah suara adik perempuannya, salah satu korban dari pembantaian keluarga, yang juga teman baik Akane di sekolah dasar.
Ketika Akane dan temannya masih muda, mereka mengenakan topi kuning dan tas merah ke sekolah. Akane, yang telah menjadi remaja, memiliki rasa supernatural yang kuat. Dia mulai melihat penampakan hantu perempuan mengenakan topi kuning dan tas merah.
TRAILER FILM JU-ON SHIROI ROJO
REVIEW FILM JU-ON SHIROI ROJO
Ju-on: Shiroi rojo adalah salah satu dari 2 film horor yang dikeluarkan pada hari yang sama di Jepang pada pertengahan tahun 2009, selain Ju-on: Kuroi shojo/The Grudge: Old Lady in Black. Film yang lebih dikenal di Amerika dengan judul The Grudge: Old Lady in White ini, merupakan hasil kerjasama antara sutradara Ryuta Mitake dengan produser terkenal Takashige Ichise, yang sukses dengan film-film horor Jepang seperti Ju-on 1-2, Shutter, dan The Grudge 1-3.
The Grudge: Old Lady in White bertemakan tentang 1 keluarga yang baru pindah rumah. Seperti biasa, mereka pindah tanpa mengetahui masa lalu dari rumah tersebut. Semua yang berhubungan dengan rumah ini dan penghuni barunya, kemudian akan merasakan kejanggalan dalam hidup mereka, tanpa diketahui sebabnya.
Sepanjang film yang berdurasi hanya sekitar 1 jam (61 menit) ini, anda akan disuguhi beberapa cerita yang pada awalnya terlihat tidak berhubungan satu dengan yang lain. Anda perlu sedikit berpikir dan memutar otak untuk merangkai alur yang ditampilkan, agar dapat mengerti jalan cerita secara keseluruhan.
Dari segi jalan cerita, penulis Takashi Shimizu (Ju-on, The Grudge) tidak banyak memberi variasi dibandingkan karya film-film horor Jepang sebelumnya. Adegan yang disuguhkan terkadang mudah ditebak, meskipun masih tetap menegangkan. Walau demikian, film ini masih layak ditunggu oleh penggemar film horor Jepang. Dengan penyajian sound effect yang khas, film ini akan membuat penonton terus terbayang-bayang akan sosok Ju-on.
Salah satu daya tarik dari film ini adalah rasa penasaran yang diberikan tentang siapa sebenarnya tokoh utama dalam film ini. Dan anda hanya akan mengetahui jawabannya di akhir film. Jadi tonton saja filmnya! =)
(Marcell/Kitareview.com)