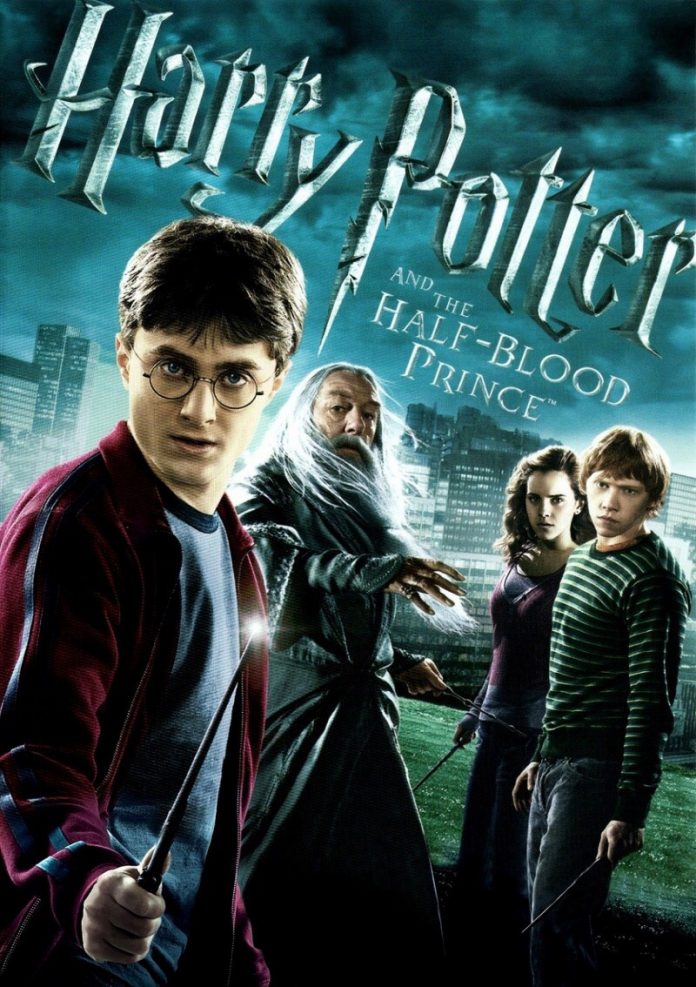 DATA FILM
Judul Film: Harry Potter and The Half Blood Prince
Genre: Action – Adventure
Sutradara: David Yates
Produser: David Heyman – David Barron
Penulis Skenario: Steve Kloves
Studio Produksi: Warner Bros – Heyday Films
Distributor: 20th Century Fox
Bahasa: Inggris
Durasi: 153 menit
Tahun Rilis: 17 Juli 2009 (Indonesia)
DATA LAINNYA
Adaptasi dari: Novel
Judul: Harry Potter and The Half Blood Prince
Pengarang: J.K. Rowling
Bahasa: Inggris
Tahun Terbit: 25 Juli 2006
Film Sebelumnya:

Harry Potter and The Sorcerer Stone

Harry Potter and The Chamber of Secret

Harry Potter and The Prisoner of Azkaban

Harry Potter and The Goblet of FireHarry Potter and The Goblet of Fire
PEMERAN UTAMA
Daniel Radcliffe sebagai Harry Potter
Emma Watson sebagai Hermione Granger
Rupert Grint sebagai Ron Weasley
Bonnie Wright sebagai Ginny Weasley
Michael Gambon sebagai Albus Dumbledore
Alan Rickman sebagai Severus Snape
Jim Broadbent sebagai Horace Slughorn
SINOPSIS FILM HARRY POTTER AND THE HALF BLOOD PRINCE
Film ini mengisahkan tahun keenam Harry bersekolah di Hogwarts. Harry diajak Dumblodore untuk menemui teman lamanya, Horace Slughorn. Dengan harapan agar Slughorn mau kembali mengajar di Hogwarts. Di tempat lain, Bellatrix memaksa Severus Snape untuk mengikat sumpah dengan Narcissa Malfoy. Snape dipaksa untuk membantu Draco menjalankan misinya di Hogwarts. Sementara itu para Death Eaters semakin merajalela meneror Diagon Alley dan menangkap Ollivander.
Di sekolah, Horace menggantikan Snape mengajar Ramuan, sedangkan Snape mengajar Pertahanan terhadap Ilmu Hitam. Dalam pelajaran Ramuan, Harry memperoleh kemajuan pesat berkat buku milik Half Blood Prince yang ditemukannya. Sementara sahabatnya, Ron, sibuk berpacaran dengan Lavender Brown. Draco, yang mengemban misi khusus dari You Know Who, banyak melakukan kegiatan yang memancing kecurigaan Harry.
Dengan bantuan Harry yang mendapatkan memory dari Slughorn, Dumbledore akhirnya berhasil memecahkan misteri kekuatan You Know Who. Dumbledore kemudian mengajak Harry mencari Horcrux dan berusaha menghancurkannya. Sementara Snape yang ternyata adalah si Half-Blood Prince terpaksa membantu Draco menjalankan misi gelapnya.
TRAILER
REVIEW FILM HARRY POTTER AND THE HALF BLOOD PRINCE
Tidak terasa, Harry Potter telah sampai pada film keenam. Buat para penggemar Harry Potter yang sudah tamat membaca bukunya dan menonton kelima film sebelumnya, rasanya sudah mafhum bagaimana film-film Harry Potter dibandingkan dengan versi novelnya.
Ceritanya lebih kepada pembuka teka-teki untuk mengalahkan Voldemort (ups..tidak apa-apa kan  kalo saya sebut namanya?..:p) dimana Harry sekarang mengetahui soal Horcrux. Walaupun sedikit mengandung unsur misteri, tapi tidak akan terlalu membuat penasaran para fans Harry yang telah membaca novelnya. Bahkan sedikit membosankan dengan durasi yang cukup panjang dan tidak banyak menyajikan aksi-aksi pertempuran magic seperti film sebelumnya. Hampir sepanjang film, Kita hanya melihat lika-liku romantisme remaja antara Harry, Hermione, Ron, dan Ginny 🙁
Dari segi visual, tidak ada yang istimewa. Special effects-nya tidak banyak perubahan dari film-film sebelumnya, suasana Hogwarts masih terasa dengan visualisasi yang sebenarnya cukup baik, tapi tidak akan terasa wah. Karakter-karakternya berikut akting masing-masing tokoh juga tidak banyak perubahan. Michael Gambon dan Alan Rickman masih menyajikan akting yang mengagumkan. Hanya saja tidak bisa dipungkiri bahwa Daniel Radcliffe, Bonnie Wright, Rupert Grint, dan Emma Watson sudah semakin dewasa. Terutama Emma tentu saja (Merlin's beard!!..she's so pretty..even the real Hermione won't be that pretty). Yang satu itu cukup menghibur buat  mereka yang agak kecewa dengan film ini 🙂
Well, buat anda-anda yang gak mengikuti kisah Harry Potter, sepertinya agak sulit juga untuk menikmati film Harry Potter and The Half Blood Prince ini. Overall, walaupun sedikit mengecewakan, tapi khusus buat para penggemar Harry Potter, kayanya bagaimanapun sayang juga kalo sampai film ini terlewat, terutama buat mereka yang ingin tahu bagaimana dunia magic dicampur sedikit cinta. Kita tunggu saja film berikutnya. Selamat menonton, and enjoy…
(noHan/Kitareview.com)