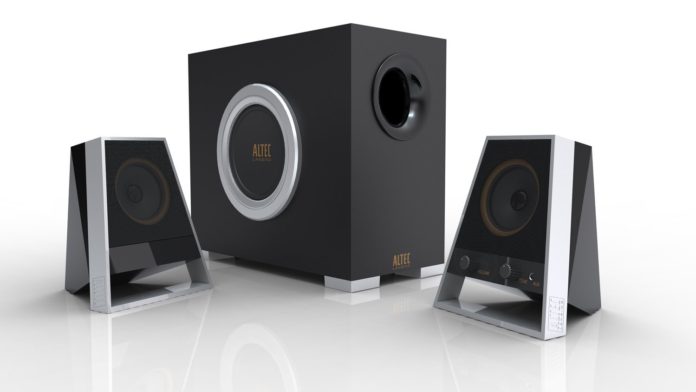 "Salah satu produk baru yang coba diperkenalkan oleh Altec Lansing adalah speaker Altec Lansing VS2621 sebagai pengganti varian sebelumnya, VS2421."
DATA SPEAKER
– Tipe Speaker: Altec Lansing VS2621
– Produsen: Altec Lansing
– Website: http://www.alteclansing.com
– Harga:
SPESIFIKASI
– Drivers: Two Full Range 2" (50mm)
– Subwoofer: Sidefiring 4" (100mm)
– Sound Pressure Level (SPL): 93 dB
– Total Continuous Power: 28 Watts RMS
– Each Speaker: 7.5 Watts per Channel (@ 8 ohms @ 10% THD @ 200 Hz – 20 kHz)
– Subwoofer: 13 Watts @ 4 ohms @ 10 % THD @ 50 Hz – 200 Hz
– System Response: 45 Hz – 18 kHz (-10 dB)
– Signal to Noise Ratio @ 1 kHz input: > 65 dB
– Satellite Dimensions: 5.1" x 4.7" x 5.2″ (130mm x 120mm x 131mm)
– Subwoofer Dimensions: 4.9" x 10.3" x 8.8" (125mm x 262mm x 224mm)
– Sekunder AUX IN jack Secondary AUX IN jack: Lets you connect a portable CD, DVD, or MP3 player while linked to your computer
REVIEW SPEAKER ALTEC LANSING VS2621

Salah satu produk baru yang coba diperkenalkan oleh Altec Lansing sebagai pengganti varian sebelumnya, VS2421. Masih sama dengan VS2421, varian "anyar" VS2621 juga mengusung konfigurasi 2.1, degan 2 buah satellite dan 1 buah subwoofer. Apa saja yang berbeda dari VS2621 dengan varian sebelumnya? Akan Kita bahas dalam review kali ini.
Dari segi ukuran VS2621 memiliki ukuran subwoofer dan satellite yang lebih kecil dari VS2421 sehingga tidak memerlukan ruang yang besar untuk peletakannya. Desain yang ditawarkan oleh VS2621 pun lebih simple dan elegan. Dari sisi kualitas suara yang dihasilkan VS2621 jauh lebih baik dari VS2421. Bass yang dihasilkan dari VS2621 terasa lebih bulat dan lebih bersih dibanding pendahulunya, walaupun jika bicara urusan power, yang dikeluarkan VS2621 lebih kecil dari VS2421.
Untuk kejernihan suara yang dihasilkan VS2621 bisa dibilang balance, karena baik bass dan treble-nya tidak saling mendominasi.Speaker ini sangat cocok untuk musik-musik Pop, Jazz dan musik klasik, yang lebih mengutamakan kejernihan suara, dibanding dentuman bass yang menggelegar. Harga yang ditawarkan untuk speaker ini pun relatif terangkau. Jadi bagi Anda yang menginginkan speaker dengan kualitas suara yang detail dan berukuran kecil, maka VS2621 adalah pilihan yang tepat.
Kalau kamu merasa review speaker Altec Lansing VS2621 ini bermanfaat, jangan lupa like dan share artikel Kitareview.com ini ya 🙂
(MrCool/Kitareview.com)